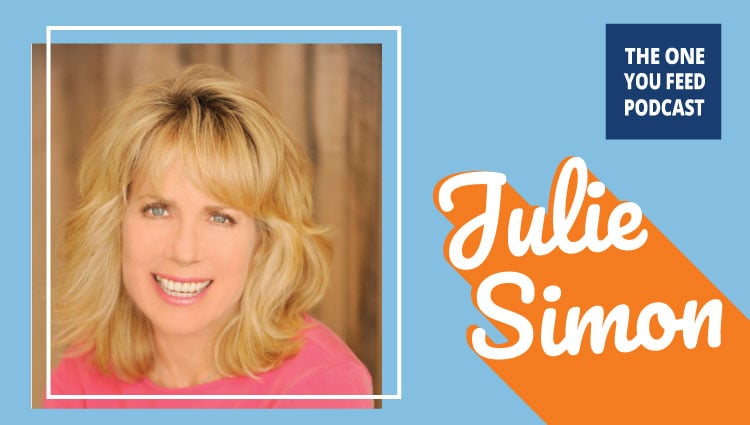 Julie Simon is a licensed psychotherapist, life coach and certified personal trainer with over 30 years of experience in helping overeaters and imbalanced eaters mend their relationship with their feelings and ultimately themselves. She's also the founder of the popular Los Angels based 12-week emotional eating recovery program.
Eric and Julie discuss her book, When Food is Comfort: Nurture Yourself Mindfully, Rewire Your Brain and End Emotional Eating.
But wait, there's more! The episode is not quite over!! We continue the conversation and you can access this exclusive content right in your podcast player feed. Head over to our Patreon page and pledge to donate just $10 a month. It's that simple and we'll give you good stuff as a thank you!
Julie Simon and I Discuss How to Manage Emotional Eating …
Her book, When Food is Comfort: Nurture Yourself Mindfully, Rewire Your Brain and End Emotional Eating.
The most common cause of emotional overeating is difficulty regulating our emotions, moods, thoughts, and behaviors
When we disconnect from our emotions, we don't learn necessary skills to regulate
Attunement and attachment in early childhood that create neural pathways
When we're under the influence of emotional part of the brain, we're not capable of reasoning
The 7 skills involved in inner nurturing
The importance of exploring our emotions and bodily sensations
Our tendency to move away from unpleasant emotions by focusing on our thoughts
How emotions present in the body first (before we have words for them)
Real recovery is experiencing and moving through emotions
Learning to practice soothing behaviors to restore ourselves to calm
The goal is not to distract ourselves, but to calm ourselves enough to work on regulation skills
How self validation is not condoning the behavior, but acceptance and self compassion
Julie Simon Links
By purchasing products and/or services from our sponsors, you are helping to support The One You Feed and we greatly appreciate it. Thank you!
If you enjoyed this conversation with Julie Simon check out these other episodes:
Emotional Agility with Susan David