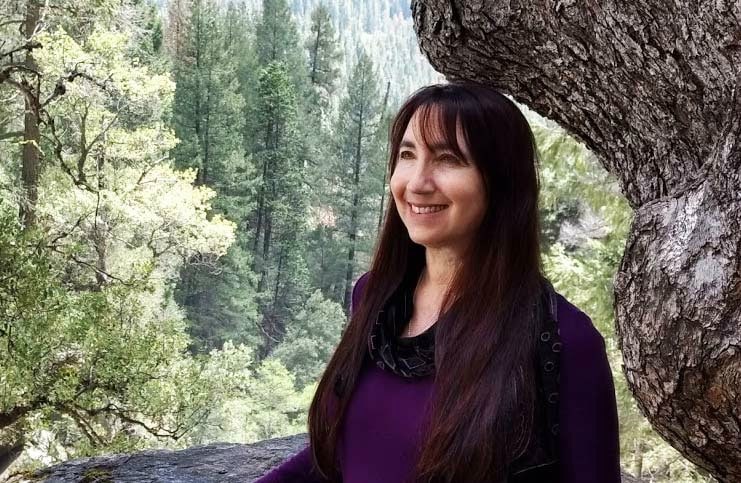 Andrea Lieberstein can teach you how to nourish your whole self so that you can have a healthier relationship with food. What does that mean? Well, often, we turn to food to nourish parts of our lives that it is not equipped to nourish. Have you ever turned to food to soothe anxiety or stress? This is a really common way that we ask food to do something that it's not meant to do. In this episode, Andrea teaches specific strategies for how to bring mindfulness into the act of eating. These practical, multi-pronged approaches are ones that you can bring to your very next encounter with food.
This week we talk to Andrea Lieberstein
Andrea Lieberstein, MPH, RDN, RYT, is bestselling author of the book, "Well Nourished: Mindful Practices to Heal Your Relationship to Food, Feed Your Whole Self and End Overeating" She is a mindfulness and mindful eating expert, speaker, mindfulness-based registered dietitian nutritionist, mindfulness meditation teacher, teacher trainer and a champion for leading a Well Nourished Life. She leads mindful eating and Well Nourished trainings and retreats internationally, coaching and training professionals and the general public. In hervirtual and in person private practice, Andrea works with individuals to have more peace, balance and joy in their relationship with food, nutrition, body-image, and stress-related issues and health concerns or whom simply want to bring their lives back into balance and vibrancy through mindful eating and living. She spearheaded mind body programs at Kaiser Permanente Northern California centers for many years. Andrea is also a contributing author to "Resources for Teaching Mindfulness: An International Handbook, and to the "The Relaxation and Stress Reduction Workbook" (5th edition). She has degrees from Stanford University and the University of California at Berkeley.
Her latest book is called: Well Nourished: Mindful Practices to Heal Your Relationship with Food Feed Your Whole Self, and End Overeating
In This Interview,

Andrea Lieberstein and I Discuss…
The Wolf Parable
Her book, Well Nourished: Mindful Practices to Heal Your Relationship with Food Feed Your Whole Self, and End Overeating
The importance of what we pay attention to
The 8 bodies that we can nourish
Being "fully resourced"
Identifying your intention to have a better relationship with food
Bringing mindful awareness to our eating triggers and our own bodies
Learning to tune into hunger, fullness, cravings
Making conscious, informed choices when it comes to food
Honoring ourselves and appreciating others at holiday mealtimes
Savoring our food so that we're really present and not on autopilot
A mindful check-in: Pause, Deep Breaths, Ask "What is Present?"/"What's Going on Here?", Ask, "What do I really need right now?", Take a moment to reflect on your food
Highly processed food
The myth of needing to wait 20 minutes to know whether or not we're full
Satisfaction at mealtime
Making one meal or snack a day a silent one
The 8 Bodies we need to Nourish: Physical, Emotional, Psychological, Social, Intellectual, Creative, Spiritual, and Worldly Nourishment
How to deal with emotions in other ways than turning to food
"Surfing the urge"
Loving-kindness and cravings
Andrea Lieberstein Links

A grandfather is talking with his grandson and he says there are two wolves inside of us which are always at war with each other.
One of them is a good wolf which represents things like kindness, bravery and love. The other is a bad wolf, which represents things like greed, hatred and fear.
The grandson stops and thinks about it for a second then he looks up at his grandfather and says, "Grandfather, which one wins?"
The grandfather quietly replies, the one you feed
The Tale of Two Wolves is often attributed to the Cherokee indians but there seems to be no real proof of this. It has also been attributed to evangelical preacher Billy Graham and Irish Playwright George Bernard Shaw. It appears no one knows for sure but this does not diminish the power of the parable.
This parable goes by many names including:
The Tale of Two Wolves
The Parable of the Two Wolves
Two Wolves
Which Wolf Do You Feed
Which Wolf are You Feeding
Which Wolf Will You Feed
It also often features different animals, mainly two dogs