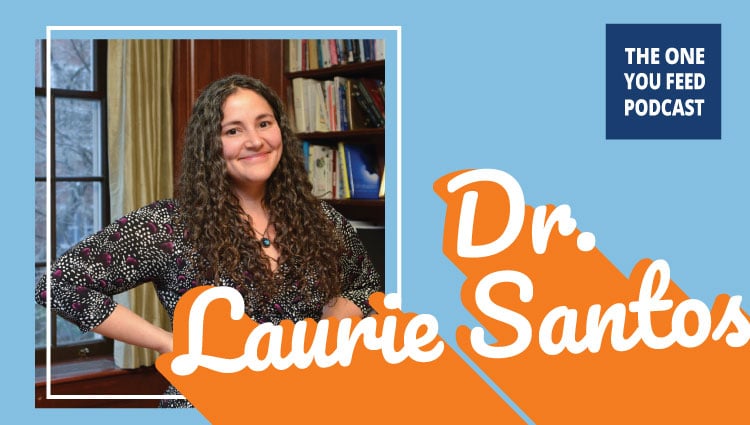 Dr. Laurie Santos is Professor of Psychology and Head of Silliman College at Yale University. She is the host of the podcast The Happiness Lab and is an expert on human cognition and the cognitive biases that impede better choices. Her course, "Psychology and the Good Life," teaches students what the science of psychology says about how to make wiser choices and live a life that's happier and more fulfilling. Dr. Santos has been featured in numerous news outlets including the New York Times, NBC Nightly News, The Today Show, CBS This Morning, and more. She has won numerous awards both for her science and teaching from institutions such as Yale and the American Psychological Association.
In this episode, Eric and Dr. Laurie Santos discuss the psychology of happiness and strategies on how to lead a happier life.
Join Eric and Ginny in person for a Spiritual Habits Workshop at Omega in Rhinebeck, NY! For more details, visit oneyoufeed.net/omega
But wait, there's more! The episode is not quite over!! We continue the conversation and you can access this exclusive content right in your podcast player feed. Head over to our Patreon page and pledge to donate just $10 a month. It's that simple and we'll give you good stuff as a thank you!
Dr. Laurie Santos and I Discuss How to Lead a Happier Life and …
Her podcast, The Happiness Lab
The research she does with dogs

How animals are excellent guides on how to be present

The power of doing little things and doing them often
Focusing on the small things can help keep our "stories" accurate and positive
Gratitude and delight practices are useful strategies to create happiness
The impact of sound and learning to notice pleasant sounds
Shifting our attitude of how we spend our time (get to rather than have to)
Understanding the scientific benefits can provide motivation to change behavior
Self compassion helps to find the happy medium of being too harsh or easy on yourself
Getting curious about our resistance to creating good habits
How noticing and meditating on the rewards of a positive behavior hacks the brain systems
Knowing that behavior change is easier when our environment supports the behavior
Loneliness and how our intuitions are often wrong when trying to overcome it
Dr. Laurie Santos Links
By purchasing products and/or services from our sponsors, you are helping to support The One You Feed and we greatly appreciate it. Thank you!
If you enjoyed this conversation with Dr, Laurie Santos, check out these other episodes:
Ruth Whippman on The Complexities of Happiness