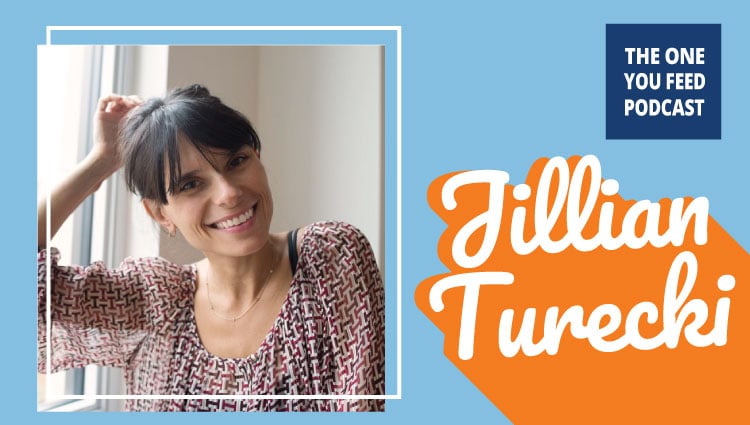 Jillian Turecki is a certified relationship coach, teacher, and writer who for the last 20 years has taught others how to transform their relationship with themselves and others. Jillian is also the host of the podcast, Jillian on Love.
In this episode, Eric and Jillian discuss her coaching work with people on how to develop healthier relationships with themselves and others.
Registration for The Well Trained Mind Program is now open! Learn the foundations of mindfulness and create a more fulfilling spiritual practice in Ginny's live virtual program that starts on October 9. Visit oneyoufeed.net/mindfulness to learn more!
But wait, there's more! The episode is not quite over!! We continue the conversation and you can access this exclusive content right in your podcast player feed. Head over to our Patreon page and pledge to donate just $10 a month. It's that simple and we'll give you good stuff as a thank you!
Jillian Turecki and I Discuss How to Have Healthy Relationships with Yourself and Others and …
Her podcast, Jillian on Love
Recognizing that our minds create stories that we can easily get caught up in.
The importance of understanding issues in a relationship aren't just about the other person, but as much about yourself
Taking responsibility for your love life is not about blaming yourself
How we need to love ourselves before we can love others well
Important medicine for relationships:  accountability, forgiveness, and truth
The biggest problems in a relationship is trying to change the other person and relying too much on the other person to make you happy
Asking "how can I change to help you change?"
When a relationship is failing, we often go into survival mode and neglect to see our role in the relationship
How we need to keep acknowledging our appreciation to our partners
Our "emotional home" is the pattern of what we do when we're stressed
How all of our emotional patterns come from fear
The critical role of communication in relationships
Remembering that we should be listening more and talking less
How you think about your partner's intent when feeling hurt or angry
Jillian Turecki Links
By purchasing products and/or services from our sponsors, you are helping to support The One You Feed and we greatly appreciate it. Thank you!
If you enjoyed this conversation with Jillian Turecki, check out these other episodes:
Dr. Sue Johnson on Navigating Romantic Relationships