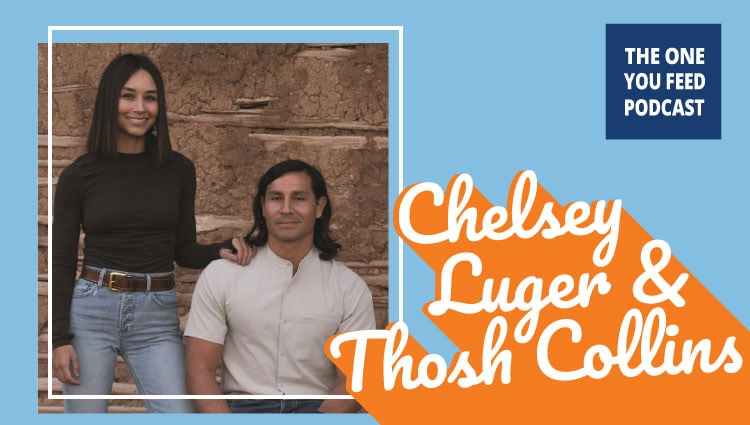 Chelsey Luger is a writer and wellness advocate originally from North Dakota, an enrolled member of the Turtle Mountain Band of Chippewa and descendant of the Standing Rock Sioux Tribe. She got her undergraduate degree at Dartmouth College, concentrating on comparative histories of global Indigenous cultures, and later earned an M.S. in Digital Media at Columbia University's Graduate School of Journalism. She is the co-founder of Well For Culture. Her writing has appeared in the Atlantic, Huffington Post, Yes! Magazine, and other outlets.
Thosh Collins is a photographer, board member for the Native Wellness Institute, and co-founder of Well For Culture. He is On Akimel O'odham, Seneca-Cayuga, and Osage, born and raised on the Salt River Reservation. He serves on the Salt River Pima-Maricopa Land Board, and remains politically and culturally active within his community.
But wait, there's more! The episode is not quite over!! We continue the conversation and you can access this exclusive content right in your podcast player feed. Head over to our Patreon page and pledge to donate just $10 a month. It's that simple and we'll give you good stuff as a thank you!
Chelsey Luger & Thosh Collins and I Discuss How to Find Wellness in Indigenous Wisdom and …
Beginning everything with gratitude is a key to our wellness journey
Accepting the challenges and finding balance
Chelsea's story of the dust storm and teaching resilience
Focusing on solution based thinking for indigenous cultures to heal and thrive
Expanding the common narrative of indigenous cultures to show resilience rather than brokenness
Understanding the harm of cultural appropriation
Keeping their cultural and spiritual practices private and sacred
The seven circles include our connections to food, sleep, movement, ceremony, sacred space, community, and land.
How the symbol of the medicine wheel represents interconnectedness of mental, physical, spiritual, and emotional
Finding ways to integrate the circles of wellness
Connecting to land is about remembering that we are not separate from nature
Noticing and acknowledging the natural elements of this earth
Adapting a subsistence world view
How connecting emotion to day to day rituals creates the element of ceremony
Chelsey Luger & Thosh Collins Links
By purchasing products and/or services from our sponsors, you are helping to support The One You Feed and we greatly appreciate it. Thank you!
If you enjoyed this conversation with Chelsey and Thosh, check out these other episodes:
Deep Transformation with Spring Washam