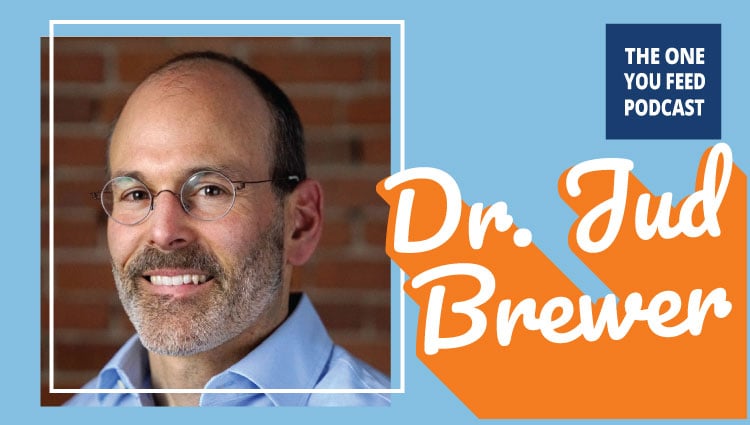 Dr. Jud Brewer is a thought leader in the field of habit change and the science of self-mastery. He is the Director of Research and Innovation at the Mindfulness Center and associate professor in psychiatry at the School of Medicine at Brown University.
In this episode, Eric and Dr. Jud talk about his book, Unwinding Anxiety: New Science Shows How to Break the Cycles of Worry and Fear to Heal Your Mind and they explore something called the Habit Loop, using it to understand and heal difficult emotions like anxiety.
If you'd like to start out this new year restoring some balance and putting some healthy habits in place, or if you're tired of waiting for the right circumstances to make progress towards your goals, Eric, as a behavior coach, can help you.
To book a free, no-pressure 30-minute call with Eric to see if working with him in The One You Feed Personal Transformation Program is right for you, click here.
But wait – there's more! The episode is not quite over!! We continue the conversation and you can access this exclusive content right in your podcast player feed. Head over to our Patreon page and pledge to donate just $10 a month. It's that simple and we'll give you good stuff as a thank you!
In This Interview, Dr. Jud Brewer and I discuss Habits for Healing Anxiety and…
His book, Unwinding Anxiety: New Science Shows How to Break the Cycles of Worry and Fear to Heal Your Mind
Reward-Based Learning
Trigger, Behavior, Result
The Habit Loop
Addiction defined as continued use despite adverse consequences
Habits: Set and Forget
How if we don't pay attention to how rewarding the habit is right now, we can't change the behavior
How to heal anxiety as well as emotional eating using the Habit Loop
The role of curiosity in healing anxiety
Learning to be with difficult emotions and learning to allow them to pass
How to remember to be mindful throughout the day
Dr. Jud Brewer Links:
Green Chef: The first USDA Certified Organic Meal Kit Company that makes eating well easy and affordable. Go to www.greenchef.com/wolf90 and use code WOLF90 to get $90 off including free shipping.
Peloton: Of course the bike is an incredible workout, but did you know that on the Peloton app, you can also take yoga, strength training, stretching classes, and so much more? If you download the Peloton App today through January 30, 2021 you get 2 free months free!
Kettle & Fire: Bone Broth and soups carefully crafted by world-class chefs, made with the best whole ingredients and the bones of humanely raised animals delivered right to your door. Go to www.kettleandfire.com/wolf and use promo code WOLF for 20% off.
If you enjoyed this conversation with Dr. Jud Brewer on Habits for Healing Anxiety, you might also enjoy these other episodes:
Dr. Jud Brewer on Addiction and the Craving Mind (August, 2018)
James Clear on Compounding Nature of Habits-Part 1