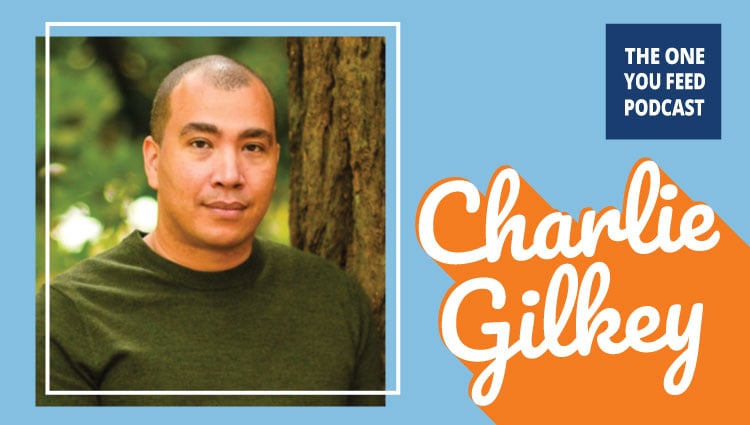 Charlie Gilkey is the author of Start Finishing: How To Go From Idea To Done. An Army veteran and near Ph.D. in philosophy, Charlie is the founder of Productive Flourishing, a company that helps professional creatives, leaders, and change-makers take meaningful action on work matters. He's widely cited in outlets such as Inc. Magazine, Time, Forbes, The Guardian, Life Hacker and more and his work will help you discover the path from the ideas in your head to the actions you take in your daily life and the way you live out your values – and most importantly how to go about getting things done.
Need help with completing your goals in 2019? The One You Feed Transformation Program can help you accomplish your goals this year.
But wait – there's more! The episode is not quite over!! We continue the conversation and you can access this exclusive content right in your podcast player feed. Head over to our Patreon page and pledge to donate just $10 a month. It's that simple and we'll give you good stuff as a thank you!
In This Interview, Charlie Gilkey and I Discuss Getting Things Done and …
How kindness towards others often brings out the best in everyone
The Tao Te Ching
Focusing on your input and letting go of the results
Why finishing is so important
That we only get mastery from finishing things, not halfway doing them
We don't just improve by thinking about things, we improve by doing them
Creative constipation breeds toxicity
We're either creating something or destroying something
We don't do ideas, we do projects
How it feels good to think about our ideas
How doing our best work is often really hard
The myth: if it's meant to be for us, it's supposed to be easy
That when you start something you're not as good at it as you want to be and it takes time to and effort to get better
The myth that if it doesn't come easy for you, you shouldn't do it
Doing something until you're good enough at it to decide whether or not you want to continue doing it
The 5 things that get in the way of doing our best work
Head Trash: Doesn't matter if a thought is true or not – it matters if we believe it or not
The problem with automatically believing our thoughts
How discipline limits decision fatigue
Action expresses priority
Being sick isn't a character defect – how you respond to it matters
That big life changes take life force and energy in order for us to respond to and deal with them and that's life force that we can't put towards other things – and that's ok
---
Charlie Gilkey Links:
EverlyWell: Offers more than 35 at-home lab tests with super easy to follow instructions. Results are processed in a certified lab and reviewed by board-certified physicians and are then sent directly to you within days. The EverlyWell digital platform helps break down exactly what your results mean for you plus you can also set up a free discussion with a healthcare professional to discuss them. To start learning more about your health, go to everlywell.com/wolf and enter promo code WOLF for 15% off your test
Phlur – Eric created his own sampler set that you can try! Get this curated sampler set or create your own. Get 20% off your first 3 Phlur samples at Phlur.com/wolf
Calm: The #1 rated app for meditation. They have meditations for anxiety, adult bedtime stories, soothing music, calm masterclasses with may One You Feed Guests. www.calm.com/wolf 25% off a Calm Premium Subscription
---
If you enjoyed this conversation with Charlie Gilkey on getting things done, you might also enjoy these other episodes: