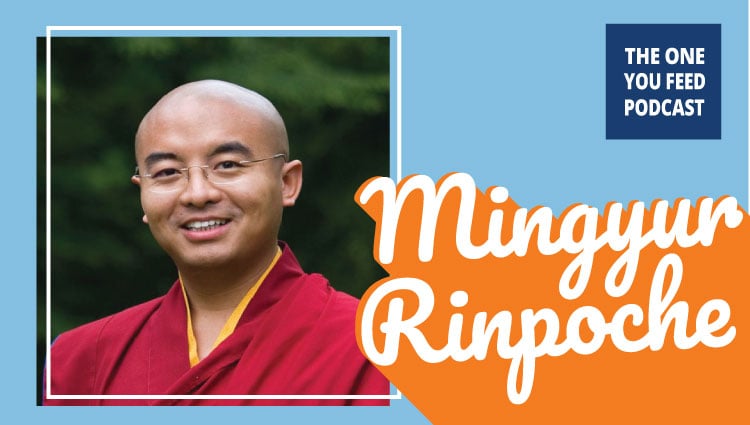 Mingyur Rinpoche is a much-loved and accomplished Tibetan Buddhist meditation teacher. When not attending the monasteries under his care in Inda and Nepal, Rinpoche spends time each year traveling and teaching worldwide.
In this episode, Mingyur Rinpoche talks about his book, In Love With The World: A Monks Journey Through The Bardos of Living and Dying.
But wait – there's more! The episode is not quite over!! We continue the conversation and you can access this exclusive content right in your podcast player feed. Head over to our Patreon page and pledge to donate just $10 a month. It's that simple and we'll give you good stuff as a thank you!
In This Interview, Mingyur Rinpoche and I Discuss How to Fall in Love with the World and …
His book, In Love With The World: A Monk's Journey Through The Bardos of Living and Dying
The power of choosing where we place our attention
How the opportunity to experience yourself differently is always available
Why it's important to differentiate between yourself and your emotions
What his father told him about his panic attacks as a young child
Object-oriented meditation vs. Subject-oriented meditation
The power of letting feelings come and go while resting in awareness, which is something bigger
The only reliable liberation from suffering
That it's our preoccupation with a problem that nails it in place
How to work with difficult feelings and situations in life so that we suffer less
His 4-year wandering retreat
The lesson he learned: If you love the world, the world loves you back
His near-death experience
Mingyur Rinpoche Links:
BiOptimizers: Just 2 capsules of their Magnesium Breakthrough taken before bed gives you all 7 forms of magnesium so that you sleep better at night. Go to www.magbreakthrough.com/wolf and use the promo code WOLF10 at checkout to save 10%.
Upstart: The fast and easy way to get a personal loan to consolidate, lower your interest rate, and pay off your debt. Go to www.upstart.com/wolf
If you enjoyed this conversation with Mingyur Rinpoche on How to Fall in Love with the World, you might also enjoy these other episodes:
Belonging and Connection with Sebene Selassie