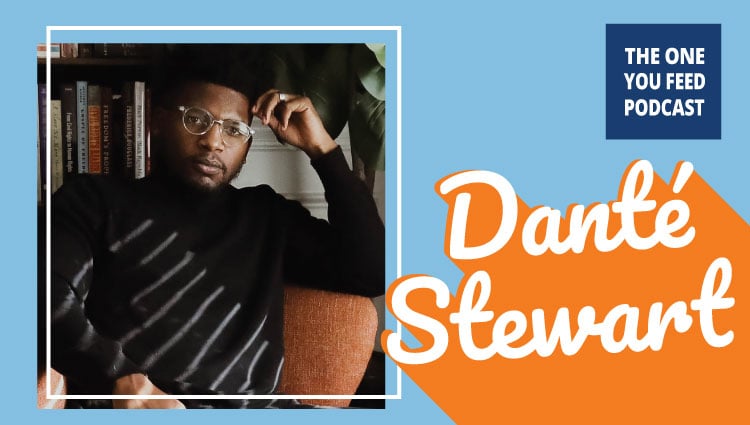 Danté Stewart is a speaker and a writer whose work in the areas of race, religion, and politics has been featured on CNN and in The Washington Post, Christianity Today, Sojourners, The Witness: A Black Christian Collective, Comment, and elsewhere. He received his BA in sociology from Clemson University and is currently studying at the Candler School of Theology at Emory University in Atlanta, Georgia.
In this episode, Eric and Dante discuss his book, Shoutin' in the Fire: An American Epistle
But wait – there's more! The episode is not quite over!! We continue the conversation and you can access this exclusive content right in your podcast player feed. Head over to our Patreon page and pledge to donate just $10 a month. It's that simple and we'll give you good stuff as a thank you!
Danté Stewart and I Discuss Faith, Identity, Finding a Voice, and…
Learning to care for ourselves as a whole person and not just the individual parts of us
How it's easy to allow our work to mask who we really are
His experience of spending time in and assimilating to the predominantly white church and culture
The tension he felt between his different social identities
The paradox of being visible and invisible when you're a marginalized person
How he needed to learn to give voice to his psychological pain, struggle, and rage
The issue with current value systems and social constructs that view white dominance as the norm
How he has learned that there isn't just one answer, but many answers to how we can become a better version of ourselves both as individuals and communities
His CNN article, "We Redefined Blackness as a World and a Gift"
Art is about taking intangible dreams and making them tangible out in the world
Finding wholeness is about trying to make sense of the past in order to create a better future
How his writing is how he can give voice to what he's feeling
Comparison is the thief of creativity
The importance of creating as it is what makes us come alive
Danté Stewart links:
When you purchase products and/or services from the sponsors of this episode, you help support The One You Feed. Your support is greatly appreciated, thank you!
If you enjoyed this conversation with Danté Stewart you might also enjoy these other episodes:
Racialized Trauma with Resmaa Menakem
Deep Transformation with Spring Washam
Don't Miss Out
Subscribe to instantly download my free ebook, "The Top 5 Reasons You Can't Seem To Stick With A Meditation Practice —And How To Actually Build One That Lasts" — plus the latest podcast delivered straight to your inbox each week!