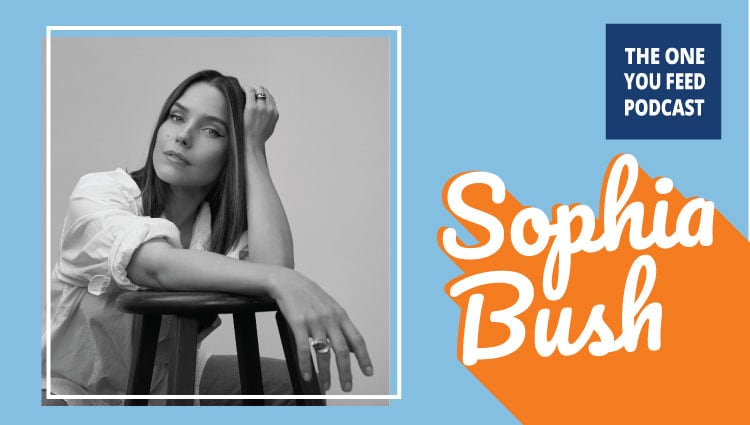 Sophia Bush is an American actress, activist, director, and producer.  She starred as Brooke Davis in the WB/CW drama series One Tree Hill and as Erin Lindsay in the NBC police procedural drama series Chicago P.D.  She hosts the podcast, "Work in Progress" and is also well known for her philanthropy work and social activism.
In this episode, Eric and Sophia share a meaningful conversation about a variety of things including spirituality, nature, curiosity, maturity, growth, and activism.
If you need help with or are looking for support in working with your thoughts, emotions, and behaviors, check out The One You Feed Coaching Program. To learn more and to schedule a free 30-minute call with Eric, visit oneyoufeed.net/coach
But wait – there's more! The episode is not quite over!! We continue the conversation and you can access this exclusive content right in your podcast player feed. Head over to our Patreon page and pledge to donate just $10 a month. It's that simple and we'll give you good stuff as a thank you!
In This Interview, Sophia Bush and I Discuss Curiosity, Activism, and …
The dangerous idea of trying to be perfect and ignoring the bad feelings 
Seeing the "flat" versions of others and not the whole person
How her work is what she does, but not who she is
Her desire to make connections with real people
The ebb and flow of balancing her work and personal life
Nature and the environment as her house of worship
Spirituality and how it allows her to relinquish her desire for control
The wisdom in spiritual traditions
Maturity is learning to be okay with not having answers
Her capacity to be more tender and curious 
Asking what we can do to change policies and systems
Everyone has a part to play in activism on important topics
How anxiety and self-criticism show up in her life
Her collection of affirmations that serve as evidence of the truth
Making space for fear and leaning into the truth from trusted people
Sophia Bush Links:
Work in Progress with Sophia Bush
Skillshare is an online learning community that helps you get better on your creative journey. They have thousands of inspiring classes for creative and curious people. Sign up via www.skillshare.com/feed and you'll get a FREE one-month trial of Skillshare premium membership.
Talkspace is the online therapy company that lets you connect with a licensed therapist from anywhere at any time at a fraction of the cost of traditional therapy. It's therapy on demand. Visit www.talkspace.com or download the app and enter Promo Code: WOLF to get $100 off your first month.
If you enjoyed this conversation with Sophia Bush on Curiosity and Activism, you might also enjoy these other episodes:
Being Heart Minded with Sarah Blondin