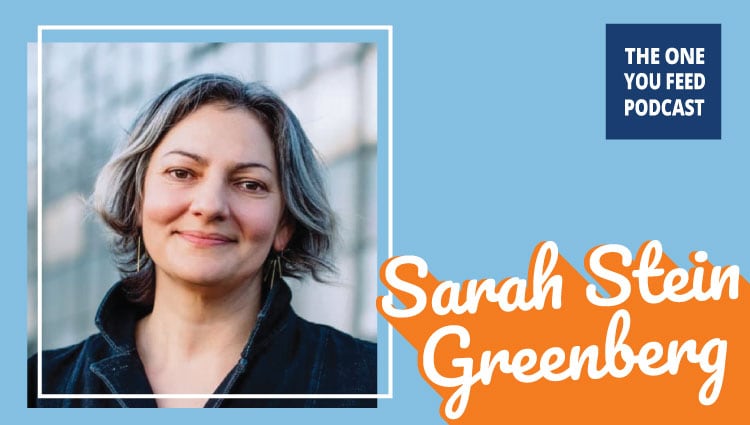 Sarah Stein Greenberg is the Executive Director of the Hasso Plattner Institute of Design. Sarah helps lead the d. school, an interdisciplinary institute at Stanford that nurtures innovators and spreads design thinking.
In this episode, Eric and Sarah Stein Greenberg discuss her book, Creative Acts for Curious People: How to Think, Create, and Lead in Unconventional Ways.
Get Text Messages from Eric that will remind and encourage you to help stay on track with what you're learning from the week's episodes released on Tuesdays and Fridays. To sign up for these FREE text message reminders, go to oneyoufeed.net/text.
But wait – there's more! The episode is not quite over!! We continue the conversation and you can access this exclusive content right in your podcast player feed. Head over to our Patreon page and pledge to donate just $10 a month. It's that simple and we'll give you good stuff as a thank you!
Sarah Stein Greenberg and I Discuss Creative Thinking and Action Through Design and…
How design includes systems and experiences in both personal and professional realms
The importance of tuning in to the emotional needs and signals when addressing problems or issues
The curse of knowledge or expertise
Keeping an open mind and not jumping to the first solution
Being open to feedback as opposed to seeking validation
An important tool in design is seeking feedback early and often
Starting with a "beginner's mind" is critical in design
Learning to see things in a new and different way
How reflecting on our experiences can unlock new insights
The exercise: "What?, So What?, Now What?"
The practice of blind contour portrait to locate and turn off the inner critic
Learning to suspend judgment in the generative process
How creative work involves trying new ideas knowing they're not good
"I Like, I Wish" practice allows us to reflect and reframe an experience
The "tether" practice includes sitting for 3 hours to observe and record what you're seeing
Sarah Stein Greenberg links:
When you purchase products and/or services from the sponsors of this episode, you help support The One You Feed. Your support is greatly appreciated, thank you!
If you enjoyed this conversation with Sarah Stein Greenberg, you might also enjoy these other episodes:
How to Stay Creative with Austin Kleon