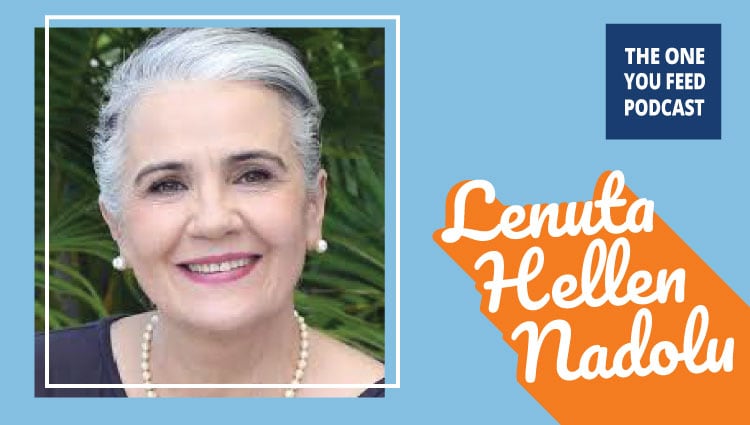 Lenuta Hellen Nadolu is a loving mother, a successful entrepreneur, and, as you'll find out in this interview – a survivor. Most recently, Helen was a guest speaker at a United Nations High Commissioners For Refugees Charitable Event in Support of Women and Girls in The Democratic Republic of Congo.
In this episode, Eric and Hellen discuss her new book, Give Me Courage: The Inspiring True Story Of Survival and Escape.
But wait – there's more! The episode is not quite over!! We continue the conversation and you can access this exclusive content right in your podcast player feed. Head over to our Patreon page and pledge to donate just $10 a month. It's that simple and we'll give you good stuff as a thank you!
In This Interview, Lenuta Hellen Nadolu and I Discuss Courage and Strength …
Her experience growing up in a struggling communist country
Meeting her future husband, the doctor who cared for her mother in the hospital
The extraordinary circumstances under which she was able to marry her husband
Her move to Africa in consideration of her daughter
The love, care, and, respect she found in Ghana
When her husband decided to marry a 2nd wife
Her experience as the first white woman to divorce a black man in the Ghanian court
Why she decided to pack her bags, take her children and fly illegally – smuggling her children – out of Ghana
Her dream of giving her children a life free of the racist abuse they had experienced
The psychic who told her where to what country she would move
Lenuta Hellen Nadolu Links:
KiwiCo: The subscription service that sends your child hands-on science, art, and geography projects each month to build confidence, creativity, and critical thinking skills. Get 30% off your first month plus free shipping on any crate line with the promo code FEED at www.KiwiCo.com
Organifi: Your all-day, total body, certified organic, delicious superfood system. Go to www.organifi.com and enter promo code WOLF to get 15% off any product in their store.
If you enjoyed this conversation with Lenuta Hellen Nadolu, you might also enjoy these other episodes:
Dr. Tererai Trent on Incredible Perseverance