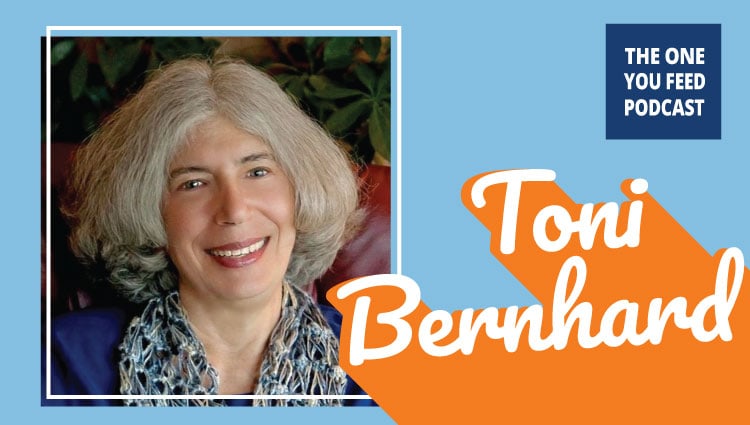 This is Toni Bernhard's second time as a guest on the show and we're so glad to have her back. She is a former law professor at the University of California, a practicing Buddhist for 25 years, and the author of many books including the one she and Eric discuss in this episode, How to Be Sick: Your Pocket Companion.
Eric and Toni talk about her experience living with chronic illness, what she has learned and what she now has to teach others about how they might suffer less amidst their own experience with chronic pain and other long term health conditions.
But wait – there's more! The episode is not quite over!! We continue the conversation and you can access this exclusive content right in your podcast player feed. Head over to our Patreon page and pledge to donate just $10 a month. It's that simple and we'll give you good stuff as a thank you!
In This Interview, Toni Bernhard and I Discuss Living with Chronic Illness and…
Her book, How to Be Sick: Your Pocket Companion
How we can feel our emotions without necessarily feeding them
That pushing feelings away in aversion just makes them stronger
Repressing emotions intensifies them
Her own experience with chronic illness
The three components of pain
Examining the meanings that we give things
The liberating Zen teaching of "Don't know mind"
What to do when things don't go our way
Why it can be so hard to be kind to ourselves
That being sick is part of being alive, not because you're not doing something wrong
Toni Bernhard Links:
Calm App: The app designed to help you ease stress and get the best sleep of your life through meditations and sleep stories. Join the 85 million people around the world who use Calm to get better sleep. Get 40% off a Calm Premium Subscription (a limited time offer!) by going to www.calm.com/wolf
Best Fiends: Engage your brain and play a game of puzzles with Best Fiends. Download for free on the Apple App Store or Google Play.
Skillshare is an online learning community that helps you get better on your creative journey. They have thousands of inspiring classes for creative and curious people. Be one of the first thousand to sign up via www.skillshare.com/feed and you'll get a FREE trial of Skillshare premium membership
If you enjoyed this conversation with Toni Bernhard on Living with Chronic Illness, you might also enjoy these other episodes: