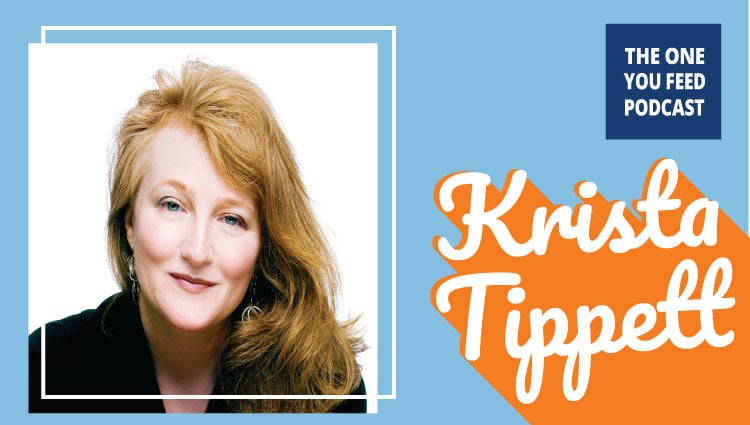 Krista Tippett is the host of On Being, the Peabody Award-winning public radio show and podcast. On Being opens up the animating questions at the center of human life. What does it mean to be human and how do we want to live? Krista is the author of "Speaking of Faith: Why Religion Matters" and "Einstein's God: Conversations About Science and the Human Spirit."
In this episode, Eric and Krista talk about what it means to be human and the importance of learning to listen when asking the big questions in life.
If you need help with or are looking for support in working with your thoughts, emotions, and behaviors, check out The One You Feed Coaching Program. To learn more and to schedule a free 30-minute call with Eric, visit oneyoufeed.net/coach
But wait – there's more! The episode is not quite over!! We continue the conversation and you can access this exclusive content right in your podcast player feed. Head over to our Patreon page and pledge to donate just $10 a month. It's that simple and we'll give you good stuff as a thank you!
In This Interview, Krista Tippett and I Discuss Being Human and …
Her work as a journalist trying to bring humanness to the stories
How science and religion ask different questions
Listening is a spiritual virtue that we need to cultivate
The big question of what it means to be human
Loving and living life's questions
Paradox and ambiguity of human existence
Having a reverence for mystery
Depression as a black pandora's box
The things that go wrong for us become part of our gifts to the world
The path to spiritual genius is through being fully human
Spirituality is the inner work that accompanies the outer work of our lives
Humor as a spiritual virtue
How she has never met a wise person who does not laugh often
Krista Tippett Links:
Vionic Shoes offers comfortable, stylish, and supportive footwear made with their signature Three-Zone comfort with Ultimate Arch Support technology They offer a 30-day wear test so if you're not completely satisfied, you can return or exchange after 30 days. Visit vionicshoes.com and enter promo code: WOLF to get free shipping.
Caviar is a food delivery app that brings premium local restaurants to your door. Get $10 off any order of $20 or more, by entering "FEED" at checkout. Download caviar the app today!
If you enjoyed this conversation with Krista Tippett on Being Human, you might also enjoy these other episodes:
Brandi Lust on Growth via the Present Moment