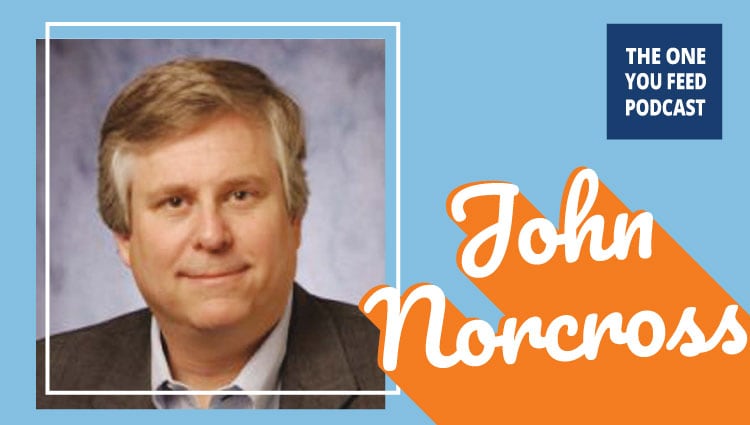 Dr. John Norcross is an internationally recognized expert on behavior change. He is Distinguished Professor of Psychology at the University of Scranton and a board-certified psychologist. He is the author of the acclaimed self-help book, Changeology: 5 Steps to Realizing Your Goals and Resolutions, has authored over 400 publications and has co-written and edited 22 books, principally in the areas of psychotherapy, clinical psychology, professional training, and self-change. In this episode, Eric and Dr. Norcross discuss the science of what behavior change tells us when it comes to the do's and don't's of creating new behaviors as well as how to put an end to problematic behaviors. This episode is full of practical wisdom and is a must-listen for anyone looking to create meaningful, lasting change in their lives.

Need help with completing your goals in 2019? The One You Feed Transformation Program can help you accomplish your goals this year.
But wait – there's more! The episode is not quite over!! We continue the conversation and you can access this exclusive content right in your podcast player feed. Head over to our Patreon page and pledge to donate just $10 a month. It's that simple and we'll give you good stuff as a thank you!
In This Interview, Dr. John Norcross and I discuss Behavior Change and…
One of the colossal mistakes people make when trying to change their behavior
Motivation & willpower versus learnable skills
Harnessing the power of the science of behavior change as well as the 5 stages of behavior change
The power of doing the right things at the right time
Preparing to follow a behavior change program
The 90-day commitment for lasting behavior change
Chronic Contemplation as well as what to do when you slip up
The findings from the New Years Resolutions Study
Energy sources
The importance of a "change team" or a "support team"
The common "countering" methods using "healthy opposites"
Applying the "healthy opposites" approach to emotional eating
The truth: what is measured, improves
How to dealing with urges as well as cravings
---
Dr. John Norcross Links:
Blinkist: Do you have an ever-growing list of books to read? Blinkist can help! With thousands of non-fiction books distilled down to their most salient points that you can consume in 15 minutes or less (audio available too!) go to www.blinkist.com/wolf for a 7-day free trial and then save 25% off your new subscription if you decide to sign up!
Nimble: Get great electronics you can feel really good about. Nimble makes premium, everyday tech products (like portable chargers, wireless chargers, protective phone cases and more). They use only sustainable materials, work with ethical factories, and ship in 100% plastic-free packaging. They'll recycle your old electronics, too. To get 25% off your first Nimble order, go to www.gonimble.com/wolf and enter promo code WOLF

Phlur: Get a luxurious scent made with transparent, clean ingredients. Eric created his own sampler set that you can try! Get this curated sampler set or create your own. Get 20% off your Phlur sampler set at Phlur.com/wolf
---
If you enjoyed this conversation with John Norcross on Keys to Successful Behavior Change, you might also enjoy these other episodes: