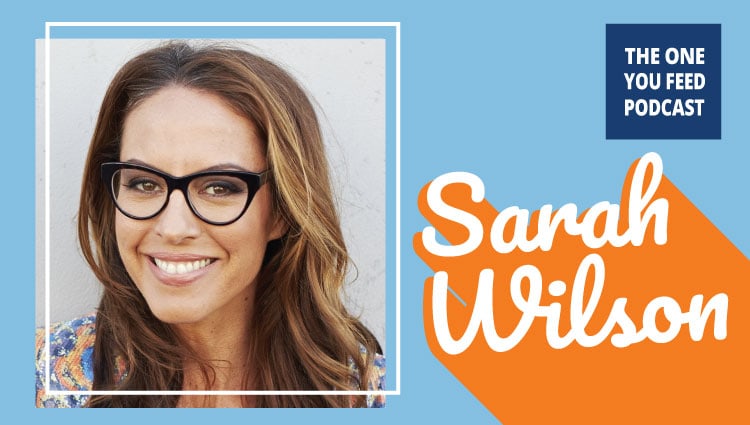 Sarah Wilson is a New York Times Bestselling author, journalist and founder of iquitsugar.com. She has published 15 I Quit Sugar books in 46 countries and in 2017 and 2018, she was ranked as one of the Top 200 Most Influential Authors In The World. At 29, Sarah was the Editor and Chief of Cosmopolitan Magazine Australia and she has also been the host of Master Chef Australia. Her newest book is, First, We Make the Beast Beautiful: A New Journey Through Anxiety and it is this that she and Eric discuss in this episode.
Need help with completing your goals in 2020? The One You Feed Transformation Program can help you accomplish your goals this year.
But wait – there's more! The episode is not quite over!! We continue the conversation and you can access this exclusive content right in your podcast player feed. Head over to our Patreon page and pledge to donate just $10 a month. It's that simple and we'll give you good stuff as a thank you!
In This Interview, Sarah Wilson and I Discuss Anxiety and…
Where the mind goes, energy flows
The idea of disconnection and reconnection in mental health
How to know when the line into disordered anxiety has been crossed
Understanding the role of medicine for anxiety, depression and other mental illnesses as well as the role of struggle in our inner life.
The importance and role of therapy while also taking medication for mental disorders
The dynamic, changing nature of actively supporting mental wellness
Stopping the cycle of getting anxious about being anxious
Sitting in your suffering and ride it out rather than trying to beat or escape it
The slow approach for dealing with Anxiety
How walking can help Anxiety
Ways handwriting can help Anxiety
Ways space can help Anxiety
Spiritual idea of contraction vs expansion
Asking yourself "Will this enlarge or contract my life?"
---
Sarah Wilson Links:
Best Fiends: Engage your brain and play a game of puzzles with Best Fiends. Download for free on the Apple App Store or Google Play.
Indeed: Millions of great candidates use Indeed every day to find their next opportunity. You can post a job in minutes and use screener questions to create your shortlist of qualified applicants fast. Skills tests for applicants are just one way Indeed helps you make smart hiring decisions quickly. Post your job today at www.indeed.com/wolf and get a free sponsored job upgrade on your first posting.
Calm App: The #1 rated app for meditation. They have meditations, sleep stories, soothing music, and Calm masterclasses with may One You Feed Guests. Get 40% off a Calm Premium Subscription (a limited time offer!) by going to www.calm.com/wolf
---
If you enjoyed this conversation with Sarah Wilson on Anxiety, you might also enjoy these other episodes: