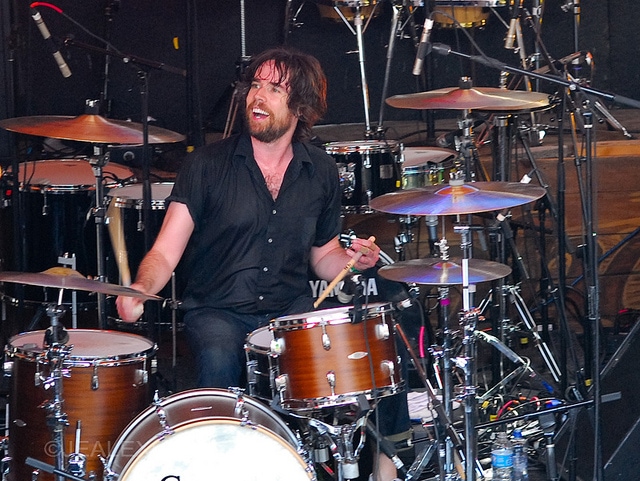 ---
Podcast: Download

This week on The One You Feed we have Jon Wurster.
I first knew of Jon Wurster as the drummer of Superchunk. From there I began to listen to his work on The Best Show on WFMU which I immediately loved. He plays a series of confident yet clueless characters: Philly Boy Roy,  Mike Sajack (Pat Sajack's pretend brother) and basketball coach Rich McGuiness, among many others. Absolute hilarity. His partner Tom Scharpling plays the perfect straight man to Jon's characters. You can hear so many of these at The Best Show Gems site. Highly recommended.
In addition to his work with Superchunk he is also the drummer for The Mountain Goats and Bob Mould. He has played with countless other artists including AC Newman, Katie Perry and R.E.M.
He plays Aimee Mann's boyfriend in a shot-for-shot remake of the Til Tuesday classic Voices Carry for Aimee's song Labrador. He has also directed other videos and written for TV.
He is also one of the funniest people on Twitter today.
In This Interview Jon and I Discuss…
The One You Feed parable.
The importance of acknowledging the bad wolf.
Some of his favorite personal development books.
Learning to take what you like from books and leaving the rest.
His early depression.
WordHate™
His dislike of the ukulele music trend.
Not trusting people from different social circles.
His comedy with Tom Scharpling on The Best Show on WFMU.
His favorite character from The Best Show.
His touring schedule.
His decision to stop drinking.
The negative downward cycle of drinking.
The enjoyment of playing sober.
The music he turns to for inspiration.
Getting started in music.
Playing rock music with Stephen Dubner.
Remembering that we are all "works in progress".
The importance of self-awareness.
Learning to guide our behavior by how it makes us feel.
Jon Wurster Links
Sterolaffs-The home of Wurster and Schaprling
The Best Show on WFMU Archives
Best Show Gems- Almost exclusively Jon's phone calls.

Some of our most popular interviews you might also enjoy:
Todd Henry- author of Die Empty