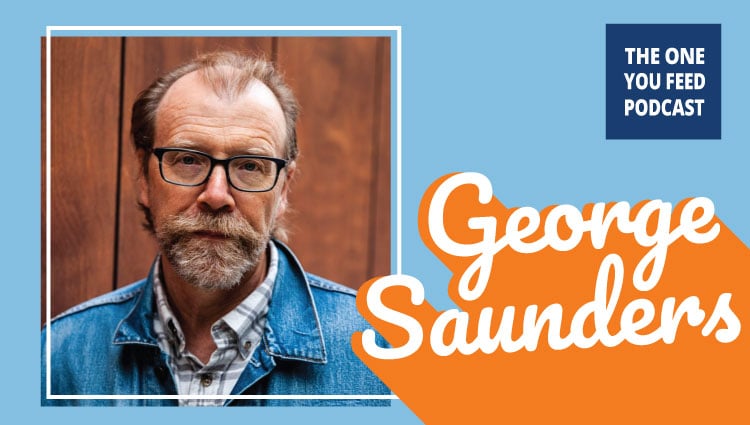 George Saunders is the author of eleven books including, Tenth of December, which was a finalist for the National Book Award and won the inaugural Folio Prize in 2013 (for the best work of fiction in English) and the Story Prize (best short story collection). He has received MacArthur and Guggenheim Fellowships, the PEN/Malamud Prize for excellence in the short story, and is a member of the American Academy of Arts and Letters, and the American Academy of Arts and Sciences. George also teaches in the Creative Writing Program at Syracuse University.
In this episode, Eric and George discuss his book, A Swim in a Pond in the Rain.
But wait – there's more! The episode is not quite over!! We continue the conversation and you can access this exclusive content right in your podcast player feed. Head over to our Patreon page and pledge to donate just $10 a month. It's that simple and we'll give you good stuff as a thank you!
Registration for the Spiritual Habits Group Program is open now! Visit spiritualhabits.net to learn more about how to bring forth real transformation in your life!
In This Interview, George Saunders and I Discuss Writing and Transformation and…
His book, A Swim in a Pond in the Rain
That we are not powerless to decide what kind of person we'll become
Some key Cognitive Distortions from which we all suffer
The Darwinian Confusions that we have
Living with the Ego while also renouncing the Ego
The question of can people change and if so, how?
How and why small adjustments do matter in the grand scheme of things
The exponential impact of setting an intention
The way he maintains a beginners mind amidst repetition
The "urgent patience" he's cultivated within himself
The "cousins" of meditation
Valuing and blessing our own reactions to what we read
How to know when we should trust ourselves
George Saunders Links:
BiOptimizers: Just 2 capsules of their Magnesium Breakthrough taken before bed gives you all 7 forms of magnesium so that you sleep better at night. Go to www.magbreakthrough.com/wolf and use the promo code WOLF10 at checkout to save 10%.
Skillshare is an online learning community that helps you get better on your creative journey. They have thousands of inspiring classes for creative and curious people. Sign up via www.skillshare.com/feed and you'll get a FREE trial of Skillshare premium membership.
If you enjoyed this conversation with George Saunders on Writing and Transformation, you might also enjoy these other episodes:
Improvising in Life with Stephen Nachmanovitch