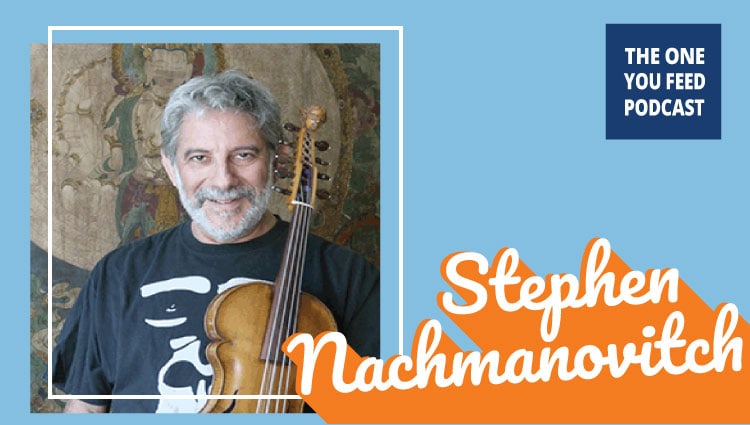 Stephen Nachmanovitch performs and teaches internationally as an improvisational violinist and at the intersection of music, dance, theatre, and multimedia arts. Stephen has presented masterclasses and workshops at Julliard and many conservatories and universities.
In this episode, Stephen and Eric discuss his new book, The Art of Is: Improvising as a Way of Life, which is an exploration of the creative process, especially the social dimensions of the creative process and a philosophical meditation on living, living fully, and living in the present.
But wait – there's more! The episode is not quite over!! We continue the conversation and you can access this exclusive content right in your podcast player feed. Head over to our Patreon page and pledge to donate just $10 a month. It's that simple and we'll give you good stuff as a thank you!
In This Interview, Stephen Nachmanovitch and I Discuss Improvising in Life and…
That creativity is absolutely worthless without an ethical foundation
The ethics of creativity
Buddhism and creativity
Why improvisation is so important to him
His interest in the creative process across all fields
That the template for improvisation is conversation
The role of listening and equality in improvisational music
The relationship between impermanence, imperfection, and improvisation
The relationship between chivalry and the phrase "yes, and…"
That play isn't what you do, it's how you do it
The relationship between discipline and freedom
Art as the act of balancing
How self correction is a lot easier without the added burden of guilt
The metaphor of a child learning to walk and the approach of "positive feedback only"
What it means to "stamp out nouns"
That when you create something that's "original" it means, simply, that you are the origin
Stephen Nachmanovitch Links:
Talkspace is the online therapy company that lets you connect with a licensed therapist from anywhere at any time at a fraction of the cost of traditional therapy. It's therapy on demand. Visit www.talkspace.com or download the app and enter Promo Code: WOLF to get $100 off your first month.
Kettle & Fire: Bone Broth and soups carefully crafted by world-class chefs, made with the best whole ingredients and the bones of humanely raised animals delivered right to your door. Go to www.kettleandfire.com/wolf and use promo code WOLF for 20% off.
Calm App: The app designed to help you ease stress and get the best sleep of your life through meditations and sleep stories. Join the 85 million people around the world who use Calm to get better sleep. Get 40% off a Calm Premium Subscription (a limited time offer!) by going to www.calm.com/wolf
If you enjoyed this conversation with Stephen Nachmanovitch on Improvising in Life, you might also enjoy these other episodes:
Finding Your Creativity with Julia Cameron
Power of Poetry with Ellen Bass