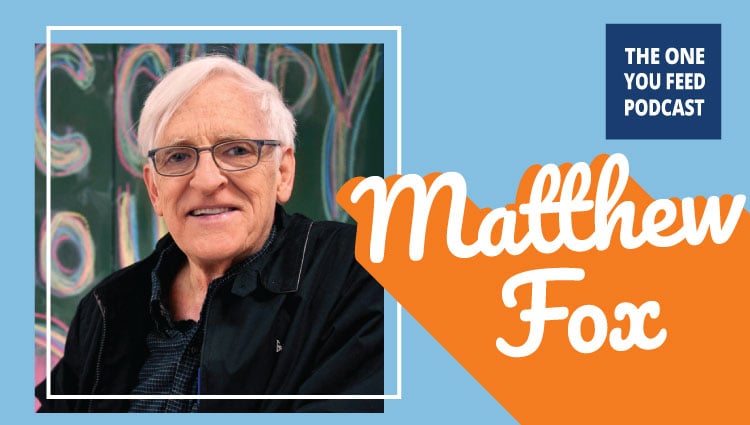 Matthew Fox is an internationally acclaimed spiritual theologian, Episcopal priest, and activist. He holds a doctor in the History and Theology of Spirituality
In this episode, Eric and Matthew discuss his book: Matthew Fox: Essential Writings on Creation Spirituality.
Registration for The Well Trained Mind Program is now open! Learn the foundations of mindfulness and create a more fulfilling spiritual practice in Ginny's live virtual program that starts on October 9. Visit oneyoufeed.net/mindfulness to learn more!
But wait, there's more! The episode is not quite over!! We continue the conversation and you can access this exclusive content right in your podcast player feed. Head over to our Patreon page and pledge to donate just $10 a month. It's that simple and we'll give you good stuff as a thank you!
Matthew Fox and I Discuss What Creation Spirituality Means and …
Creation spirituality is about the sacredness of nature and our existence
Dualism as the fall of humanity
How it's easy to forget to savor the beauty of existence
Accepting the "both/and" rather than "either/or:
Learning to fall in love the world around us
The 4 paths of creation spirituality
Creativity is what distinguishes postmodern from modern science
The importance of cultivating creativity in a spiritual journey
How art can be a meditation
How both creating and taking in art is being an artist
Compassion is about sharing both the joy and sorrow with one another
Hildegard's tent of wisdom
Matthew Fox Links
By purchasing products and/or services from our sponsors, you are helping to support The One You Feed and we greatly appreciate it. Thank you!
If you enjoyed this conversation with Matthew Fox, check out these other episodes:
Matthew Fox (Interview from 2016)