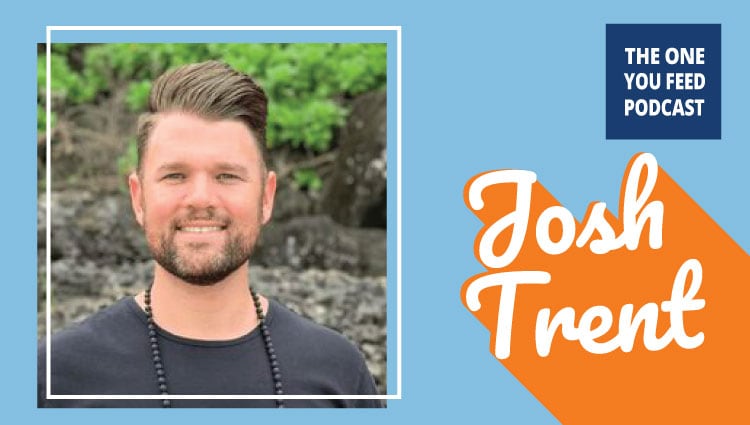 Josh Trent is the Founder of Wellness Force Media, host of the Wellness Force Podcast and the creator of the BREATHE: Breath & Wellness Program Josh has spent the past 19+ years as a trainer, researcher, and facilitator discovering the physical and emotional intelligence for humans to thrive in our modern world. The Wellness Force Mission is to help humans heal mental, emotional and physical health through podcasts, programs, and a global community that believe in optimizing our potential to live life well.
In this episode, Eric and Josh Trent discuss how to implement his powerful wellness and breathwork practices.
But wait – there's more! The episode is not quite over!! We continue the conversation and you can access this exclusive content right in your podcast player feed. Head over to our Patreon page and pledge to donate just $10 a month. It's that simple and we'll give you good stuff as a thank you!
Josh Trent and I Discuss Wellness and Breathwork Practices and…
His personal story that led to creating Wellness Force podcast and business.
The important scientific and spiritual aspects of breathwork
Box breathing and circular breathing
How breath is the autonomic lever that we can pull for modulating stress
Understanding the default mode network and how it can be deemed good or bad
The 3 phases of breathwork
Acute breathing practice is when you're stressed or reactive
Proactive or meditative breathing is what allows long term changes over time (neuroplasticity)
Catharsis breathing is a deeper level that requires training
The importance of breathing horizontally (expanding your diaphragm) and not vertically
Beginning a breathwork practice requires you to start where you are without judging yourself
The difference between breathwork and meditation
How breathwork primes your nervous system and is your best ally for meditation
Investigating the inner critic by becoming curious rather than judging it
The balancing of our awareness and lack of awareness
Learning to bridge the gap between knowing and doing
His emotional inventory practice
Josh Trent Links:
Josh's Website and Breathwork Program
When you purchase products and/or services from the sponsors of this episode, you help support The One You Feed. Your support is greatly appreciated, thank you!
If you enjoyed this conversation with Josh Trent you might also enjoy these other episodes:
The Science of Breathing with James Nestor
Don't Miss Out
Subscribe to instantly download my free ebook, "The Top 5 Reasons You Can't Seem To Stick With A Meditation Practice —And How To Actually Build One That Lasts" — plus the lastest podcast delivered straight to your inbox each week!