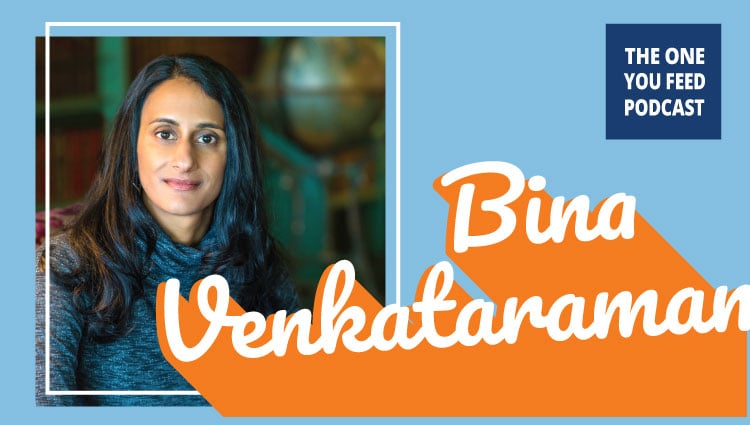 Bina Venkataraman is an American journalist, author, and science policy expert. She is currently the Editorial Page Editor of The Boston Globe and a fellow at New America. Bina is a frequent public speaker whose appearances have included the TED mainstage, NPR, Aspen Ideas, MSNBC, CNN, and university campuses around the world. Bina formerly served as Senior Advisor for Climate Change Innovation in the Obama White House and she also advised the President's Council of Advisors on Science and Technology in responding to the Ebola epidemic, promoting patient access to cancer therapies, and reforming public school science education.
In this episode, Bina and Eric discuss her book, The Optimist's Telescope: Thinking Ahead in a Reckless Age, and how we can live in the present in such a way that we also create the future that we'd like to inhabit.
But wait – there's more! The episode is not quite over!! We continue the conversation and you can access this exclusive content right in your podcast player feed. Head over to our Patreon page and pledge to donate just $10 a month. It's that simple and we'll give you good stuff as a thank you!
In This Interview, Bina Venkataraman and I Discuss Effectively Thinking Ahead and…
Her book, The Optimist's Telescope: Thinking Ahead in a Reckless Age
How to make decisions about the future
The untold story of the marshmallow test
How most people don't look past 15 years in the future
Tools for more effectively imagining the future
Tools for more effectively planning for the future
Being present while also orienting for the future
When we're more likely to make bad decisions
The role of implementing impulse buffers
When an "if/then" strategy can be most helpful to you
How our past informs our view of the future
Social movements that influence lasting change
Bina Venkataraman Links:
Transparent Labs offer a variety of supplements and protein powders that include science-based ingredients and have no sugar, fat, lactose, artificial colors, or sweeteners. Check out Eric's favorite, 100% Grass-Fed Whey Isolate that comes in many delicious flavors. Visit transparentlabs.com and use Promo code WOLF to receive 10% off your order.
Calm App: The app designed to help you ease stress and get the best sleep of your life through meditations and sleep stories. Join the 85 million people around the world who use Calm to get better sleep. Get 40% off a Calm Premium Subscription (a limited time offer!) by going to www.calm.com/wolf
BLUBlox offers high-quality lenses that filter blue light, reduce glare, and combat the unhealthy effects of our digital life. Visit BluBlox.com and get free shipping worldwide and also 15% off with Promo Code: WOLF15
If you enjoyed this conversation with Bina Venkataraman on Effectively Thinking Ahead, you might also enjoy these other episodes: