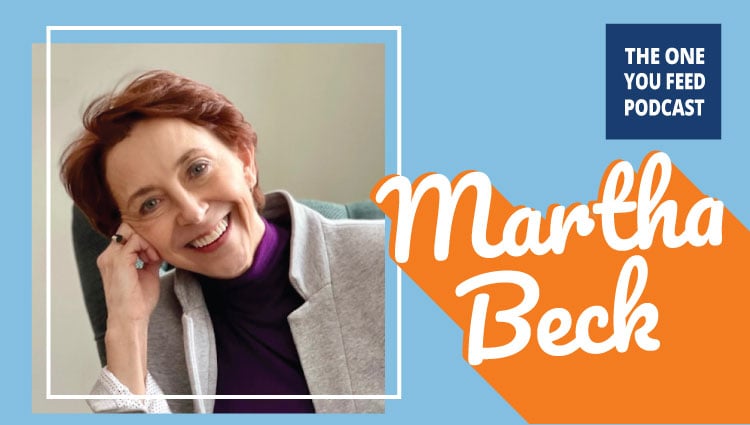 Martha Beck is a bestselling author, life coach, and speaker who specializes in helping individuals and groups achieve greater levels of personal and professional success. She is the author of nine nonfiction books and one novel, and has been a longtime contributor to O, The Oprah Magazine. Her most recent book is The Way of Integrity: Finding the Path to Your True Self
Eric and Martha discuss how to live in integrity and find the path to your true self.
But wait, there's more! The episode is not quite over!! We continue the conversation and you can access this exclusive content right in your podcast player feed. Head over to our Patreon page and pledge to donate just $10 a month. It's that simple and we'll give you good stuff as a thank you!
Martha Beck and I Discuss The Path to Your True Self and …
How what we often want is influenced by our culture
Asking ourselves what we yearn for as opposed to what you want
The repetitive cycle of thoughts that cause fear
How our culture reinforces the fear 
Learning to move from fear to curiosity
How humor and using your senses can turn down our fear
The dilemma of when our nature conflicts with our culture
Psychological suffering comes from the thoughts we choose to believe
Why suffering is needed to make us pay attention and can actually be our ally
Understanding that we have different "internal parts" that make up our whole self (Ref. to Richard Schwartz's Internal Family Systems
Her New Year's resolution to not lie for a year and the healing that she found
Navigating her way out of the Mormon religion
How switching our identity to a material self to a limitless state of being brings joy
Learning to imagine the good that will come from facing our discomfort
The power of small, incremental, and repetitive actions to change your life
Martha Beck links:
By purchasing products and/or services from our sponsors, you are helping to support The One You Feed and we greatly appreciate it. Thank you!
If you enjoyed this conversation with Martha Beck, check out these other episodes: