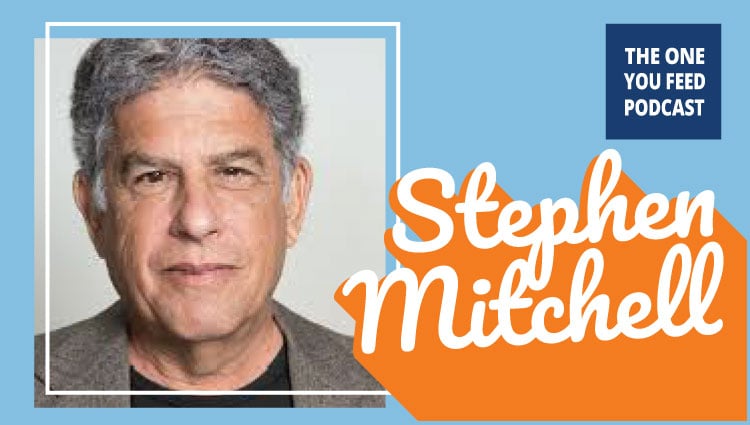 Stephen Mitchell is an author and translator who has dedicated much of his life to Zen practice. Eric and Stephen have an in depth discussion about the questioning mind as well as his work of translating many famous texts, including the Tao Te Ching, Bhagavad Gita, and Rilke's "Letters To a Young Poet". Stephen has also co-authored many books with his wife, Byron Katie, who is a former guest on the show.
Need help with completing your goals in 2020? The One You Feed Transformation Program can help you accomplish your goals this year.
But wait – there's more! The episode is not quite over!! We continue the conversation and you can access this exclusive content right in your podcast player feed. Head over to our Patreon page and pledge to donate just $10 a month. It's that simple and we'll give you good stuff as a thank you!
In This Interview, Stephen Mitchell and I Discuss the Questioning Mind and…
The parable: how reality cannot be broken into good or bad, it's just what is.
When authentic action that is true to yourself becomes second nature, it's an expression of your own reality.
His wife Katie's words, "when we believe our thoughts, we suffer; when we question our thoughts, we don't."
Suffering can end when we awaken to the truth
Distinguishing between pain, a physical phenomenon, and suffering, a mental phenomenon
Suffering often comes from being stuck in an imagined past or imagined future
His translation of the Heart Sutra that is about openness rather than emptiness
The "don't know" or questioning mind and how it doesn't get stuck in judgement
Being immersed in an intense formal Zen practice for 7 years
His Koan studies that helped him get to a state of stillness and learn to hold the questioning mind without any content.
Defining Koan studies as an existential problem meant to catapult the student into a space of questioning.
If you can rest in that space of not knowing, the answer will present itself to you.
The mind's relationship with it's contents
Difference between the mind and what it thinks.
We don't suffer because of what happens to us, but rather how we think about what happens to us.
Self inquiry and asking yourself the question, "Is it true"?
How he learns the language of the text he's translating.
His work of translating is more than just learning the meaning of words, but also the music of the words.
When translating text, his allegiance is to the spirit of the text and not just the literal meaning of the text.
Joseph and the Way of Forgiveness: A Biblical Tale Retold is discussed in the post show conversation.
---
Stephen Mitchell Links:
Feals is premium CBD delivered to your doorstep that can help you manage stress, anxiety, pain, and sleeplessness. Feals CBD is food-grade and every batch is tested so you know you are getting truly premium grade product. Get 50% off your first order with free shipping by becoming a member at www.feals.com/wolf
Daily Harvest delivers absolutely delicious organic, carefully sourced, chef-created fruit and veggie smoothies, soups, overnight oats, bowls and more. To get $25 off your first box go to www.dailyharvest.com and enter promo code FEED
Indeed: Millions of great candidates use Indeed every day to find their next opportunity. You can post a job in minutes and use screener questions to create your shortlist of qualified applicants fast. Skills tests for applicants are just one way Indeed helps you make smart hiring decisions quickly. Post your job today at www.indeed.com/wolf and get a free sponsored job upgrade on your first posting.
---
If you enjoyed this conversation with Stephen Mitchell on the Questioning Mind, you might also enjoy these other episodes: