Exploring rumination and how damaging it can be to our mental health.
What is rumination?
What's the difference between rumination and self reflection?
Hebb's Law and the role it plays in rumination.
How to escape rumination.
Podcast: Download

Rough Transcript:
A few weeks ago I was at one of the local meditation centers and people were doing walking meditation. There was a guy walking incredibly slow and everyone was backing up behind him because no one but a disabled snail can move at that pace. So people weren't doing walking meditation they were standing and looking at this guy with a grouchy look on their faces.
So I decided to stop him and explain that no one else could enjoy the meditation experience and it would be helpful if he could go just a bit faster.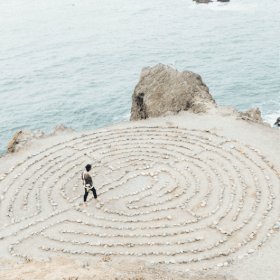 A few minutes later we sat back down for sitting meditation and my mind began racing. Should I not have said anything? Was I rude? Was this guy angry? So I decided that when we got up I would go over to him and explain myself and make sure we were good. Problem solved….except not for my mind. On and on it went re-playing the scene and thinking about the upcoming conversation.
This is commonly know as rumination or brooding.
What Is Rumination?
Rumination is the compulsively focused attention on the symptoms of one's distress, and on its possible causes and consequences, as opposed to its solutions. Rumination is generally considered differently than self-reflection. Self-reflelction tends to offer new insights wheras rumination is just playing the same negative thoughts and feelings over and over.
You will never plow a field by turning it over in your mind-

Irish Proverb
The challenge with rumination (or brooding) is that it feels like we are doing something about the issue or problem by continuing to think about it and ponder it. However, rumination is extremely destructive and has been strongly linked to deep depression and anxiety.
In fact a The UK's biggest ever online test into stress, undertaken by the BBC's Lab UK and the University of Liverpool, has revealed that rumination is the biggest predictor of the most common mental health problems in the country.
Ruminating Can Be Sneaky
The tricky thing is that worry and rumination can seem essential part of coping effectively. The idea of letting go of rumination and worry can be frightening. The ironic thing is that rumination tends to increase anxiety and effectiveness in problem solving goes down as anxiety increases.
In addition, people who ruminate (and their neurons) become more likely to continue to do it. We have talked on the show about how we create pathways in our brain that become every easier to fall into the more reengage them. This is not a fanciful idea or silly positive thinking. Neurosccience has something called Hebbs Law. The phrase, "neurons that fire together wire together"  The meaning of Hebb's axiom is that each experience we encounter, including our feelings, thoughts, sensations, and muscle actions becomes embedded in the network of brain cells, that produce that experience. Each time you repeat a particular thought or action, you strengthen the connection between a set of brain cells or neurons.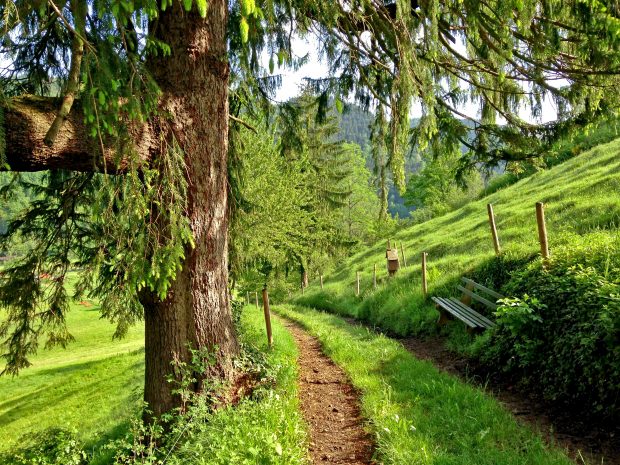 Think of it like taking a walk in the woods. Your thoughts are like hikers. The first hiker has to blaze her own trail. But over subsequent trips a trail gets worn in to the ground and more and more hikers will take that trail. The more hikers that take the trail the clearer it becomes and the more likely that future hikers will take it. It takes much more energy to go off the trail. Our brains work the same way, there is a need to conserve energy. Our brains use about 25% of the body's total energy so the brain is going to default to the neural circuits that take less energy.
So it's important to determine whether we are ruminating or problem solving.  If the thinking does not lead to a course of action within a reasonable period it is probably rumination.
Back to my story above, the first few minutes while I thought about the situation and came up with a plan of action was useful self- reflection and problem solving. Everything after that was useless rumination.
In our interview with Dan Harris he talks about the difference between useless rumination and what he calls constructive anguish . The question he asks himself is "Is this useful?"  If it doesn't lead to meaningful effective action then it is useless rumination.
If we are ruminating the most important thing is to come to a hard stop. As soon as the ruminative thought pattern begins – one that doesn't lead to new insights but is the same path – you immediately have to distract yourself with something that requires concentration. The key at this point is to stop the cycle. To stop ruminating, we have to stop the brain cold. We need to stay off the path. So anything that distracts us and requires concentration will work. Play a game, solve a puzzle, anything is better than the rumination.
So a quick summary, brooding is the process of playing negative thoughts and emotions over and over. It is also extremely destructive. It is a key indicator of depression, anxiety, high blood pressure and heat disease. We need to interrupt the brooding as soon as it begins. The best way to do this is to immediately switch the brain to something that requires concentration.
Some of our most popular interviews that you might also enjoy:
Todd Henry- author of Die Empty