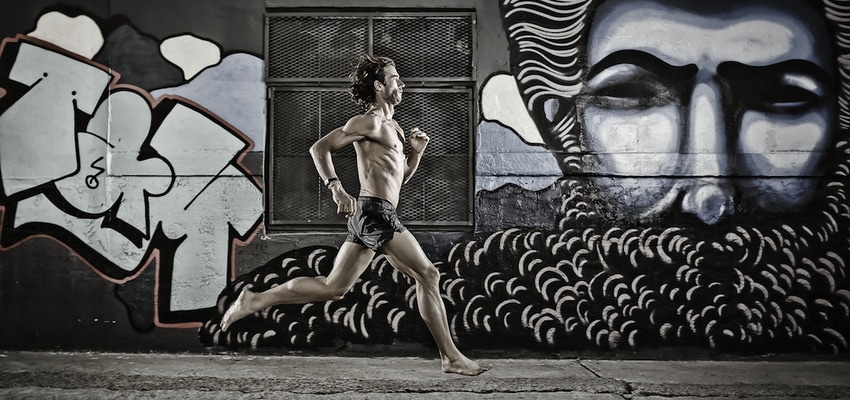 Podcast: Download

This week on The One You Feed we have Rich Roll.
Rich Roll  is a 47-year old, accomplished vegan ultra-endurance athlete and former entertainment attorney turned full-time wellness & plant-based nutrition advocate, motivational speaker, husband, father of 4 and inspiration to people worldwide as a transformative example of courageous and healthy living.
In 2012, Rich became a #1 bestselling author with the publication of his inspirational memoir Finding Ultra: Rejecting Middle Age, Becoming One of the World's Fittest Men, and Discovering Myself.  Taking up where the book leaves off, in 2013 Rich launched the wildly popular Rich Roll Podcast, which persistently sits atop the iTunes top-10 lists.
In May 2010, Rich and his ultra-colleague Jason Lester accomplished an unprecedented feat of staggering endurance many said was not possible. Something they call the EPIC5 CHALLENGE – a odyssey that entailed completing 5 ironman-distance triathlons on 5 islands of Hawaii in under a week. Commencing on Kauai, they travelled to Oahu, Molokai and Maui before finishing on the Big Island, following the course of the Ironman World Championships on the Kona coast.
 In This Interview Rich and I Discuss…
The One You Feed parable.
His experience feeding the bad wolf.
His battle with alcoholism.
How his sobriety wasn't all he needed for happiness.
His moment of clarity at 40 that made him change his life again.
The value of a plant based diet.
How important it is to be ourselves and be vulnerable in telling our story.
How nervous he was about sharing his innermost thoughts in his book.
How he followed his heart and it led to a new life for him
Why you should stop lifehacking and invest in the journey.

How to push through discomfort.
The difference between the thinking mind and your higher consciousness.
Eric taking on a 30 day plant power challenge.
Rich Roll Links
Why You Should Stop Lifehacking and Invest in the Journey

Some of our most popular interviews you might also enjoy:
Todd Henry- author of Die Empty