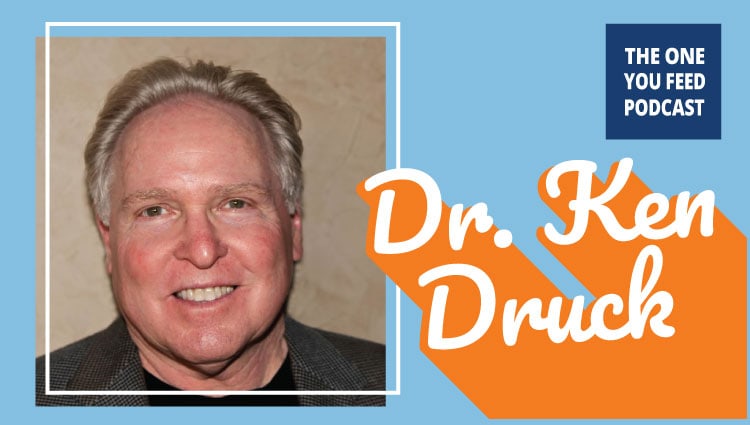 Dr. Ken Druck is a leading mental health expert in the areas of civility, relationships, and aging. Ken writes regularly for the national press and he is the author of several books including the one discussed in this episode, Raising an Aging Parent: Guidelines for Families in the Second Half of Life.
In this episode, Eric and Dr. Ken Druck talk about caring for an aging parent, finding meaning after great loss, helping ourselves receive the love that's offered to us, and how to live through the difficult nature of the difficult situations we will face in our lives.
But wait – there's more! The episode is not quite over!! We continue the conversation and you can access this exclusive content right in your podcast player feed. Head over to our Patreon page and pledge to donate just $10 a month. It's that simple and we'll give you good stuff as a thank you!
In This Interview, Dr. Ken Druck and I Discuss Raising an Aging Parent, and…
Standing in the ashes of your "Plan A" in life
The tragedy of the death of his daughter
The choice to make your pain the central organizing principle of your life or choosing a life where purpose and meaning are the central organizing principles
Our wholeness coming out of brokeness
How aging is grieving the loss of our younger self and accepting yourself as you are today
Living in a "both-and" rather than an "either-or" world
That when we care for an aging parent, we're giving life back to the parents that gave life to us
Giving our parents the good things we have in our hearts to give as they face some of the biggest challenges of their lives
The importance of being a healthy caregiver and not becoming a "slave caregiver"
Figuring out what is "enough" as a caregiver
Allowing ourselves to receive the love as our parents offer it, rather than waiting for the way we want it
Figuring out what stands in the way of us receiving other people's love, gratitude, and generosity
Showing ourselves compassion in moments of difficult decisions
The work and legacy of an aging parent
Putting our house in order
Dr. Ken Druck Links:
Indeed: Helps you find high impact hires, faster, without any long term contracts and you pay only for what you need. Get started with a free $75 credit to boost your job post and get in front of more quality candidates by going to www.indeed.com/wolf
Best Fiends: Engage your brain and play a game of puzzles with Best Fiends. Download for free on the Apple App Store or Google Play.
SimpliSafe: Get comprehensive protection for your entire home with security cameras, alarms, sensors as well as fire, water, and carbon monoxide alerts. Visit simplisafe.com/wolf for a free HD camera.
If you enjoyed this conversation with Dr. Ken Druck on Raising an Aging Parent, you might also enjoy these other episodes: