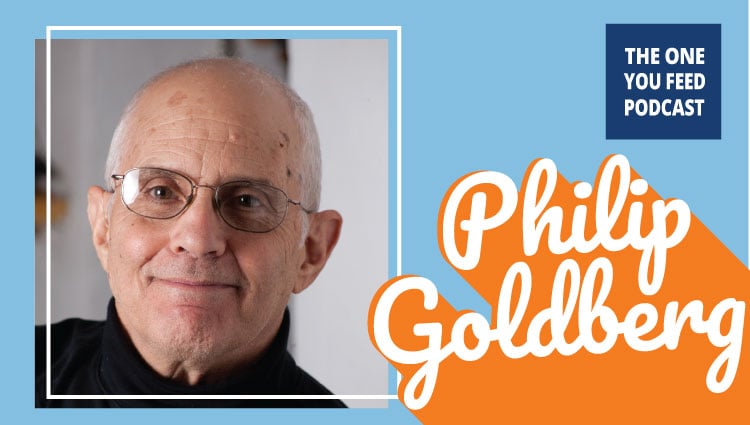 Philip Goldberg is a skilled public speaker, meditation teacher, and an ordained Interfaith Minister. He also leads tours to India and cohosts the popular podcast, "Spirit Matters Talk."
In this episode, Eric and Philip discuss his book, Spiritual Practice for Crazy Times: Powerful Tools to Cultivate Calm, Clarity, and Courage
But wait – there's more! The episode is not quite over!! We continue the conversation and you can access this exclusive content right in your podcast player feed. Head over to our Patreon page and pledge to donate just $10 a month. It's that simple and we'll give you good stuff as a thank you!
In This Interview, Philip Goldberg and I Discuss Perspectives, Spiritual Practices, and …
His book, Spiritual Practice for Crazy Times: Powerful Tools to Cultivate Calm, Clarity, and Courage
How a spiritual practice gives us a foundation for managing life's challenges
His experience of seeking equanimity over the years
The importance of practicing meditation daily
Incorporating practices before meditation, such as movement or yoga pose
Practices for after meditation when you're in a deeper, quieter place
Learning to pay attention and shift our thoughts from the extremes
How resilience comes from regularly practicing these approaches
Spiritual perspective expands your view from a bigger place
Scientific perspective of finding the awe and vastness of time and space
Historical perspective of looking at world conditions throughout history
Perspective from asking what we can learn from this experience
Perspective of human interconnectedness
Philip Goldberg Links:
Caviar is a food delivery app that brings premium local restaurants to your door. Get $10 off any order of $20 or more, by entering "FEED" at checkout. Download caviar the app today!
Relief band is the #1 FDA-cleared 100% drug-free anti-nausea wristband that has been clinically proven to relieve and effectively prevent nausea and vomiting associated with motion sickness, anxiety, migraines, hangovers, morning sickness, chemotherapy, and so much more. Go to www.reliefband.com and use promo code WOLF for 20% off plus free shipping and a 30-day money-back guarantee.
Best Fiends: Engage your brain and play a game of puzzles with Best Fiends. Download for free on the Apple App Store or Google Play.
If you enjoyed this conversation with Philip Goldberg on Perspectives and Spiritual Practices, you might also enjoy these other episodes: