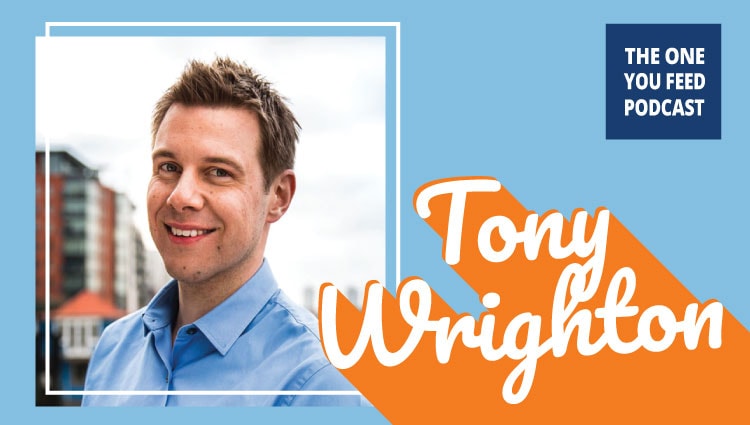 Tony Wrighton is a regular on Sky Sports News, the author of 3 books, and the creator and host of the Zestology podcast. In this episode, Eric and Tony talk about managing and optimizing your energy, ways to build fun into your day, techniques from Neurolinguistic Programming to help with anxiety and a lot more. This conversation is all about being intentional and smart about how you structure your days in order to support and promote your own well being.
Need help with completing your goals in 2019? The One You Feed Transformation Program can help you accomplish your goals this year.
But wait – there's more! The episode is not quite over!! We continue the conversation and you can access this exclusive content right in your podcast player feed. Head over to our Patreon page and pledge to donate just $10 a month. It's that simple and we'll give you good stuff as a thank you!
In This Interview, Tony Wrighton and I Discuss Managing your Energy and …
Trying to meditate with a 4-month-old
How there's not a good and evil wolf – rather, many different wolves
His training in NLP
The role of control in our lives
Parenting
Why he named his podcast Zestology – and what it means to him
The idea of managing energy – without it, you can't do anything. With a lot of it, you feel you can conquer the world
The thing that helps with energy and well being as well as what counts as a "fun" activity for him.
Meditating, sleep, good food, intermittent fasting, exercise
The thing that, when he didn't do it, caused his daily energy level to decrease by 30%
How he tracks the variables that contribute to his energy levels
His books: Confidence in a Minute, Persuade in a Minute, and Relax in a Minute
The NLP technique of anchoring in addition to managing your inner voice.
How we get used to anything in life so it's important to switch things up
Acceptance and Commitment Therapy (ACT)
Authenticity
---
Tony Wrighton Links:
Netsuite by Oracle: the world's #1 cloud business system. Netsuite is a business software that handles every aspect of your business in an easy to use cloud platform. Get Netsuite's free guide, 7 Key Strategies to Grow Your Profits, by going to www.netsuite.com/wolf
Nimble: Get great electronics you can feel really good about. Nimble makes premium, everyday tech products (like portable chargers, wireless chargers, protective phone cases and more). They use only sustainable materials, work with ethical factories, and ship in 100% plastic-free packaging. They'll recycle your old electronics, too. To get 25% off your first Nimble order, go to www.gonimble.com/wolf and enter promo code WOLF
Phlur: Eric created his own sampler set that you can try! Get this curated sampler set or create your own. Get 20% off your first 3 Phlur samples at Phlur.com/wolf
---
If you enjoyed this conversation with Tony Wrighton on Managing your Energy, you might also enjoy these other episodes: