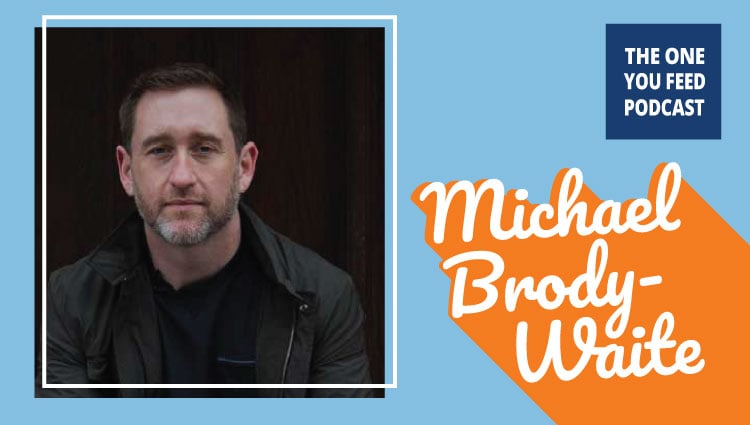 Michael Brody-Waite is a recovering addict, acclaimed speaker, entrepreneur, award-winning three-time CEO, and leadership coach.
Eric and Michael discuss his book, Great Leaders Live Like Drug Addicts: How to Lead Like Your Life Depends on It,. This interesting discussion dives deep into the principles used to recover from drug addiction and how they can be applied to lead successfully in both our personal and professional lives
But wait – there's more! The episode is not quite over!! We continue the conversation and you can access this exclusive content right in your podcast player feed. Head over to our Patreon page and pledge to donate just $10 a month. It's that simple and we'll give you good stuff as a thank you!
In This Interview, Michael Brody-Waite and I Discuss Leading in Life and…
How everyone is a leader, even if it's just leading ourselves
The parallels between active addiction and behavior in the corporate environment.
How the problem is often being addicted to hiding yourself
Learning to practice the principles from recovery in real life
The importance of surrendering the outcome
Learning to practice rigorous authenticity
Challenging yourself on doing the uncomfortable work
Learning to remove the "masks" we wear to avoid showing our true selves
Helpful tools for when you're avoiding difficult conversations
Learning how to be comfortable with the discomfort
The value of being in community with others who are working on the same things
Michael Brody-Waite Links:
Awara Mattresses are made with only natural and organic materials, including 100% organic wool from happy New Zealand sheep! For every mattress sold, 10 fruit trees will be planted. To get $350 off your mattress, plus free shipping, a Forever warranty, AND free accessories (including 2 pillows, sheets, and a waterproof mattress protector (value $499)), visit awarasleep.com/feed
Care/of helps you create a customized health plan for vitamins and supplements. These products are made from the best ingredients and conveniently shipped to you each month. For 50% of your first order, visit Takecareof.com and enter code: WOLF50.
Feals: Premium CBD delivered to your doorstep to help you manage stress, anxiety, pain, and sleeplessness. Feals CBD is food-grade and every batch is tested so you know you are getting a truly premium grade product. Get 50% off your first order with free shipping by becoming a member at www.feals.com/wolf
If you enjoyed this conversation with Michael Brody-Waite, you might also enjoy these other episodes:
Lewis Howes on the Masks of Masculinity