Podcast: Download

This week on The One You Feed we have Lama Kathy Wesley.
Wow…episode #30. Thanks to all of you listening out there.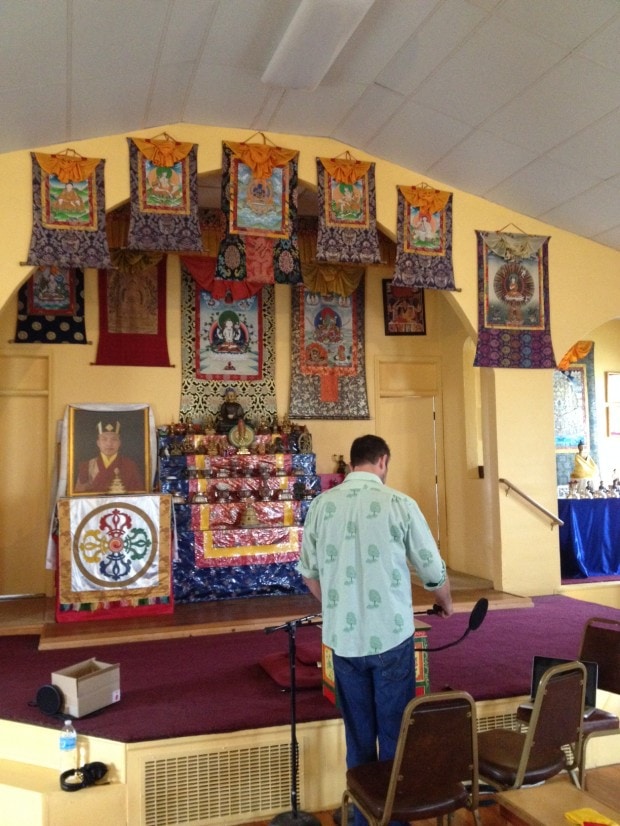 This interview was the 2nd interview we ever conducted and our longest episode we have ever aired. We conducted the interview at Lama Kathy's meditation center. It is a beautiful facility and a great room to record in.
Early on we thought it would be a good idea to talk as long as we could and then edit it down to our usual ~30 minute time frame. We learned the hard way that editing that much material is very time consuming and painful. It's painful because there are so many great insights that it hurts to limit it. I think we talked with Lama Kathy for over 90 minutes. We were simply unable to get much below an hour for the total because it was such a great interview.
We conducted it at the Columbus meditation center where Lama Kathy is the resident teacher. It is called Karma Thegsum Choling (KTC) and is a Tibetan meditation center. It is part of the Kagyu lineage which stretches back in an unbroken line of teachers to the 10th century.
Lama Kathy is the resident teacher at KTC and is in frequent demand, teaching at centers throughout the US. She has been a student of Khenpo Karthar Rinpoche since 1977. She participated in the first three-year retreat led by Khenpo Rinpoche at Karme Ling Retreat Center in upstate New York, and thus earned the title of "retreat lama." She is a graduate of Ohio State University with a bachelor's degree in journalism and lives in Newark, Ohio with her husband, Michael.
In This Interview Lama Kathy and I Discuss…
Her spiritual path.
How she became a Buddhist lama.
The one teaching that is most important.
How her life no longer belongs to her, but to everyone.
The reason to pursue spiritual teachings.
How spirituality is evolutionary.
That people come to spiritual path out of pain or confusion.
The importance of a spiritual method or technique.
How our stories in our mind change as we quiet the mind.
How some relief from our own pain and suffering makes it easier to help others.
Approaching the spiritual path.
The value of a good teacher.
The different approaches to meditation.
The one you feed parable.
How happiness and suffering arrive from the inside.
The universality of truth.
The importance of picking a path and sticking to it.
How egotism can co-opt anything.
Spiritual materialism.
The obstacles we face on the path of spirituality.
Doubt.
The beer commercial approach to spirituality.
The danger of expectations.
The difference between effort and struggle.
How love and compassion are always the answer.
Relative vs universal compassion.
Lama Kathy Links
Columbus Karma Thegsum Choling
Dharma Paths book recommended by Kathy

Some of our most popular interviews you might also enjoy:
Todd Henry- author of Die Empty