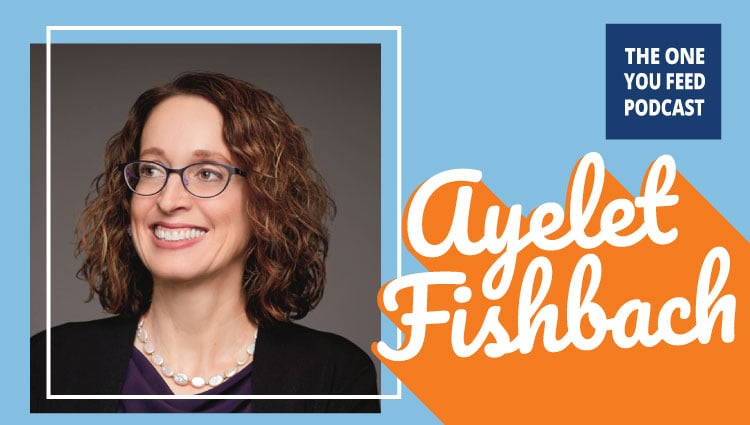 Ayelet Fishbach, PhD, is the Jeffrey Breakenridge Keller Professor of Behavioral Science and Marketing at the University of Chicago, Booth School of Business . She is the past president of the Society for the Science of Motivation and the International Social Cognition Network. She is an expert on motivation and decision making. Dr. Fishbach's groundbreaking research on human motivation has won the Society of Experimental Social Psychology's Best Dissertation Award and Career Trajectory Award, and the Fulbright Educational Foundation Award.
But wait, there's more! The episode is not quite over!! We continue the conversation and you can access this exclusive content right in your podcast player feed. Head over to our Patreon page and pledge to donate just $10 a month. It's that simple and we'll give you good stuff as a thank you!
Ayelet Fishbach and I Discuss How to Stay Motivated and …
The myth of motivation is that we are failures
Changing our situations is the most important step in staying motivated
Setting goals for our real life situations, not our ideal situations
Finding empathy for our future self
Intrinsic motivation predicts sustained engagement 
Choosing powerful goals that seem exciting and not a chore
Approach goals as opposed to avoidance goals
How assigning numbers to goals can be powerful
The importance of framing our goals
Why will power alone does not work
Strategies for managing competing goals
Remembering that we don't have to act on our thoughts or ideas
The middle problem when it's hard to see progress and stay motivated
Using time brackets for your goals 
Why some goals never become habit
The role of incentives in achieving goals
How important it is to track progress
Ayelet Fishbach Links
By purchasing products and/or services from our sponsors, you are helping to support The One You Feed and we greatly appreciate it. Thank you!
If you enjoyed this conversation with Ayelet Fishbach check out these other episodes:
Tiny Habits for Behavior Change with BJ Fogg