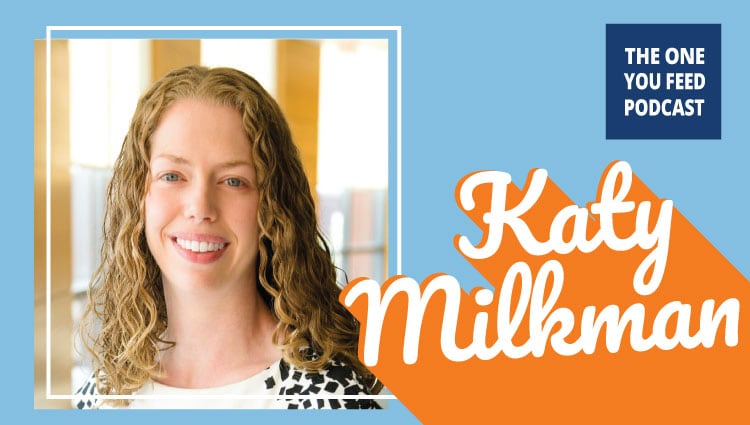 Katy Milkman is a Professor at The Wharton School of the University of Pennsylvania, host of Charles Schwab's popular podcast "Choiceology with Katy Milkman", which explores key lessons from behavioral economics about decision making, and the former president of the Society for Judgment and Decision Making. She's also the co-founder and co-director of the Behavior Change for Good Initiative.
In this episode, Eric and Katy discuss her book, How to Change: The Science of Getting from Where You Are to Where You Want to Be.
But wait – there's more! The episode is not quite over!! We continue the conversation and you can access this exclusive content right in your podcast player feed. Head over to our Patreon page and pledge to donate just $10 a month. It's that simple and we'll give you good stuff as a thank you!
In This Interview, Katy Milkman and I Discuss How to Change and …
The biggest barriers to change (and how to overcome them)
The importance of recognizing the choices you're making when you're actually making them
The benefit of making it fun to do what's needed to accomplish goals
How to combine intrinsic and extrinsic motivation to maximize the benefit
The non-linear nature of change
The key to sustained habits
How important it is to apply both flexibility and discipline to habits
Katy Milkman Links:
Peloton: Of course the bike is an incredible workout, but did you know that on the Peloton app, you can also take yoga, strength training, stretching classes, and so much more? Learn all about it at www.onepeloton.com
Feals: Premium CBD delivered to your doorstep to help you manage stress, anxiety, pain, and sleeplessness. Feals CBD is food-grade and every batch is tested so you know you are getting a truly premium grade product. Get 50% off your first order with free shipping by becoming a member at www.feals.com/wolf
If you enjoyed this conversation with Katy Milkman, you might also enjoy these other episodes:
Tiny Habits for Behavior Change with BJ Fogg