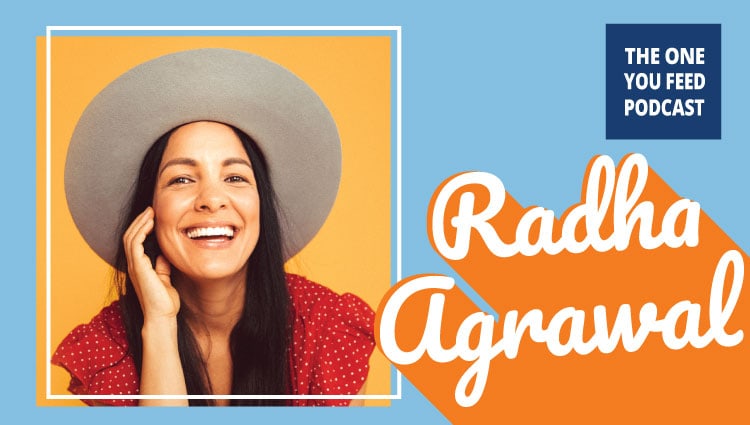 Radha Agrawal is the co-founder and CEO of Daybreaker, the early morning global dance and wellness move-ment in 30 cities and five continents. She recently launched the science-backed platform, DOSE by Daybreaker, a first-of-its-kind membership and community to practice JOY with the goal of making "practicing joy" as ubiquitous as practicing yoga and meditation.
Eric and Radha discuss her book, Belong: Find Your People, Create Community, and Live a More Connected Life which answers the questions "How do I find my people and how do I create large and meaningful communities in the real world?"
But wait – there's more! The episode is not quite over!! We continue the conversation and you can access this exclusive content right in your podcast player feed. Head over to our Patreon page and pledge to donate just $10 a month. It's that simple and we'll give you good stuff as a thank you!
In This Interview, Radha Agrawal and I Discuss How to Find Joy and Community…
How having poor social connections is harmful to your health
Her work connecting joy and belonging
Problems with labeling ourselves as an introvert or extrovert
How our bodies remember what our minds may not
Honoring the balance of internal joy and collective joy
How we can feel safer to live in our trauma stories
Understanding how joy is a daily practice
To increase our joy, we must get out of our heads
Her joy practices that include dancing while sober and blindfolded
Breathwork and moving meditation
What the brain does with music and dancing
Practicing being in joy across different ages and generations
Auditing your life and finding what brings you joy
Radha Agrawal Links:
Aura Digital Security provides digital security protection to keep your online finances, personal information, and tech safe from online threats. To sign up and get 3 months of service for free, visit aura.com/wolf.
Care/of helps you create a customized health plan for vitamins and supplements. These products are made from the best ingredients and conveniently shipped to you each month. For 50% of your first order, visit Takecareof.com and enter code: WOLF50
If you enjoyed this conversation with Radha Agrawal on How to Find Joy and Community, you might also enjoy these other episodes: