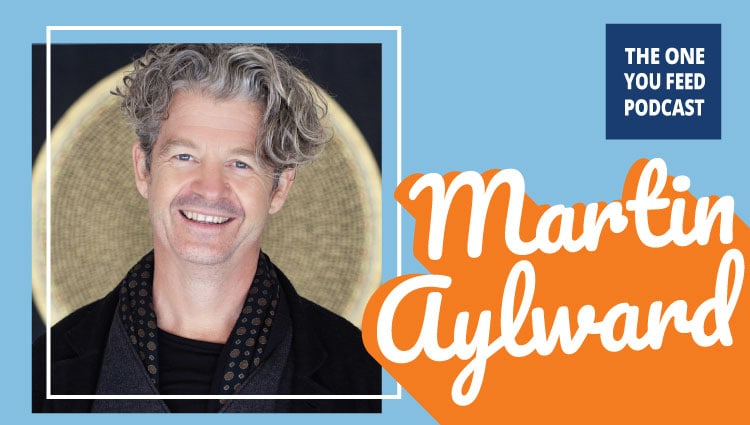 Martin Aylward has practiced meditation intensively since the age of 19, spending four years in Asian monasteries and with Himalayan hermits. He's been teaching worldwide since 1999, leading retreats and courses in mindfulness, meditation, and inner freedom. Martin co-founded the Mindfulness Training Institute with Mark Coleman, which runs year-long professional mindfulness teacher training in Europe and the U.S.
In this episode, Eric, Ginny, and Martin discuss his book, Awake Where You Are: The Art of Embodied Awareness.
But wait, there's more! The episode is not quite over!! We continue the conversation and you can access this exclusive content right in your podcast player feed. Head over to our Patreon page and pledge to donate just $10 a month. It's that simple and we'll give you good stuff as a thank you!
Martin Aylward, Ginny, and I Discuss How to Embody Awareness and …
The habits of "Grabby Mind", "Resistant Mind", and "Check Out Mind"
The good news that can learn to meet our experience more kindly and more spaciously
How aging can be humiliating or humbling depending on how much we try to hold on to our younger self-image
The distinction between what is true vs. what is useful to focus on
How to recognize and work with the deficient age gap
The way our life experiences are stored in our bodies
Sometimes meditation isn't quite psychological enough. It can help dissolve inner states in the moment but further understanding is needed in order for them to really resolve
Waking up, growing up, showing up, cleaning up
No rehearsal, No replay
Inhabiting this moment is the best way to prepare for the next moment
Martin Aylward links:
By purchasing products and/or services from our sponsors, you are helping to support The One You Feed and we greatly appreciate it. Thank you!
If you enjoyed this conversation with Martin Aylward, check out these other episodes:
Mindfulness in Nature with Mark Coleman