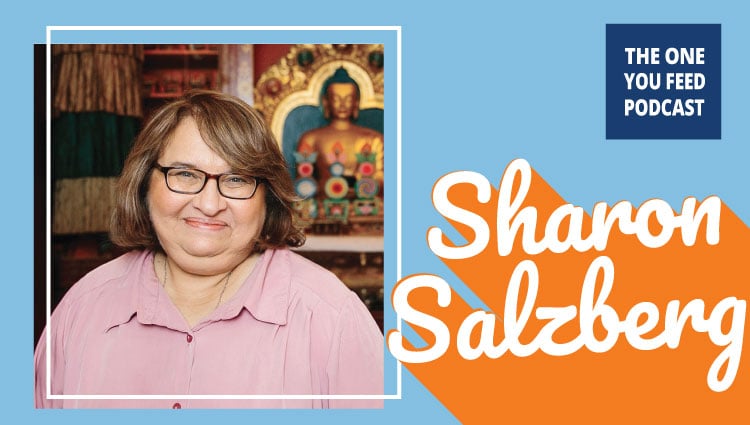 Sharon Salzberg is one of the worlds best know Buddhist teachers and a leader in meditation retreats worldwide since 1974. She teaches both intensive awareness practice (vipassana or insight meditation) and the profound cultivation of lovingkindness and compassion (the Brahma Viharas). She is a co-founder of the Insight Meditation Society in Barre, Massachusetts and The Barre Center for Buddhist Studies.
In this episode, Eric and Sharon discuss her book Real Happiness At Work: Meditations for Accomplishment, Achievement, and Peace.
But wait, there's more! The episode is not quite over!! We continue the conversation and you can access this exclusive content right in your podcast player feed. Head over to our Patreon page and pledge to donate just $10 a month. It's that simple and we'll give you good stuff as a thank you
Sharon Salzberg and I Discuss How to Bring Lovingkindness to Your Life …
Lovingkindess is the fundamental sense of connectedness to ourselves and each other
Compassion is recognizing the universal vulnerability of ourselves and each other

The fundamental teaching of "everyone wants to be happy

"
Remembering that it's never to late to make a change
How the mind is naturally radiant and pure
The "visitors" that obscure our mind
The essential question of asking what we really need to be happy
How mindfulness is about training to find "the place in the middle"
Balancing repression and indulgence in our emotions
Whether Buddhism teaches that desire is the core problem
Making decisions from a "climate of wisdom"
The four types of enemies (outer, inner, secret, and most secret)
How to deal with these enemies

The importance of setting intentions

Watching our thoughts like an elderly person watches children in a park

How the difference between happiness and misery depends on where we place our attention.
Sharon Salzberg links:
By purchasing products and/or services from our sponsors, you are helping to support The One You Feed and we greatly appreciate it. Thank you!
If you enjoyed this conversation with Sharon Salzberg, check out these other episodes:
Discovering Our Essence with A. H. Almaas