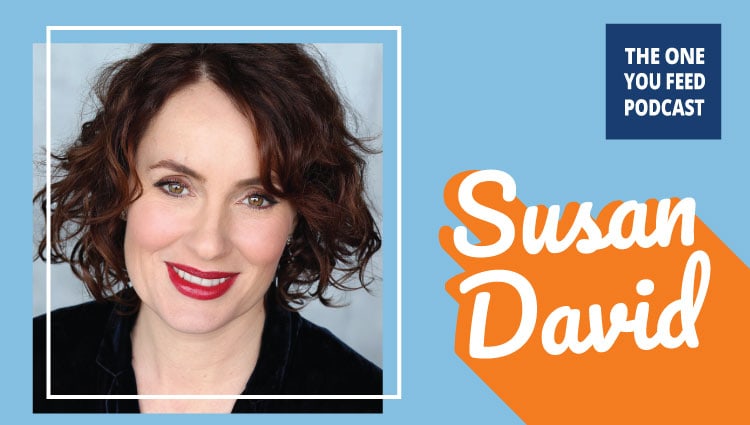 Susan David is a psychologist on faculty at Harvard Medical School. She's also the co-founder and co-director of The Institute of Coaching at McLean Hospital and is CEO of Evidence-Based Psychology. Have you ever gotten hooked by a difficult emotion? In other words, have you ever felt compelled to act on a strong feeling without having any space to think about your action first? If so, you will find really helpful wisdom in this episode that you can take, apply today and live a more skillful, open-hearted life.
In this episode, Eric and Susan David discuss her book, Emotional Agility: Get Unstuck, Embrace Change, and Thrive in Work and Life
Registration for The Well Trained Mind Program is now open!  Learn the foundations of mindfulness and create a more fulfilling spiritual practice in Ginny's live virtual program that starts on October 9.  Visit oneyoufeed.net/mindfulness to learn more!
Susan David and I Discuss How to Create Emotional Agility and …
How emotions are a guidance system and aren't good or bad
Learning 
That emotions can help us adapt and thrive
The thinking "unless I'm happy all the time, something is wrong"
Emotional agility is when we connect with our values and move forward in action
Emotional rigidity is when we believe the negative voice in our head and are reactive or on autopilot
How we get "hooked" when we accept our thoughts as facts
Strategies for getting "unhooked" 
Recognizing our patterns and being curious and compassionate about how we're reacting
Understanding that tough emotions are part of life
Shifting thing from "I am ____ " to "I notice that I'm feeling_____"
Choice points:  do I move towards or away from my values?
Our values are quality of action
Social contagion describes how we catch other peoples' behaviors and emotions
The power of keeping our values front of mind
A meaningful life comes with discomfort
How our difficult emotions are signposts for our values
Premature cognitive commitment is when we decide before we think
Susan David Links
By purchasing products and/or services from our sponsors, you are helping to support The One You Feed and we greatly appreciate it. Thank you!
If you enjoyed this conversation with Susan David, check out these other episodes:
How to Handle Emotions with Hilary Jacobs Hendel