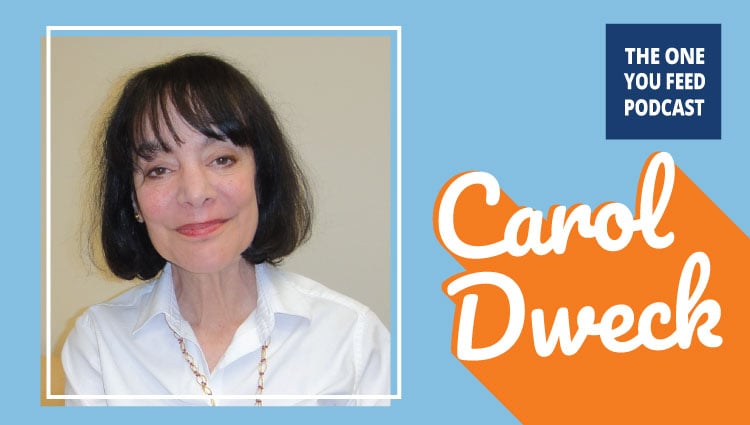 Carol S. Dweck, Ph.D., is one of the world's leading researchers in the field of motivation and is the Lewis and Virginia Eaton Professor of Psychology at Stanford University. Her research has focused on why people succeed and how to foster success. She has held professorships at Columbia University and Harvard University, has lectured all over the world, and has been elected to the American Academy of Arts and Sciences. Her work has been featured in such publications as The New Yorker, Time, The New York Times, The Washington Post, and The Boston Globe, and she has appeared on Today and 20/20.

In this episode, Carol and Eric discuss her book, Mindset: The New Psychology of Success.
But wait – there's more! The episode is not quite over!! We continue the conversation and you can access this exclusive content right in your podcast player feed. Head over to our Patreon page and pledge to donate just $10 a month. It's that simple and we'll give you good stuff as a thank you!
In This Interview, Carol Dweck and I Discuss Fixed and Growth Mindset and …
Her book, Mindset: The New Psychology of Success
How in the growth mindset we believe in our ability to grow and change
In the fixed mindset we become afraid to not know or to fail
Listening to and accepting what our minds think
Learning to talk back to our default mindset
Recognizing that we have a choice of our mindset
How we can have a fixed and growth mindset in different areas of our lives
A growth mindset doesn't say that there aren't differences in skills and ability
How people with the fixed mindset are not inspired by role models
The mindset approach can be used in regards to personality
That teenagers that are taught the growth mindset are less likely to become depressed
Learning to use the growth mindset
In a growth mindset we can see criticism as feedback, as a way to change
Relationships grow better in a growth mindset
Carol Dweck Links:
Talkspace is the online therapy company that lets you connect with a licensed therapist from anywhere at any time at a fraction of the cost of traditional therapy. It's therapy on demand. Visit www.talkspace.com or download the app and enter Promo Code: WOLF to get $100 off your first month.
If you enjoyed this conversation with Carol Dweck, you might also enjoy these other episodes:
Brandi Lust on Growth via the Present Moment