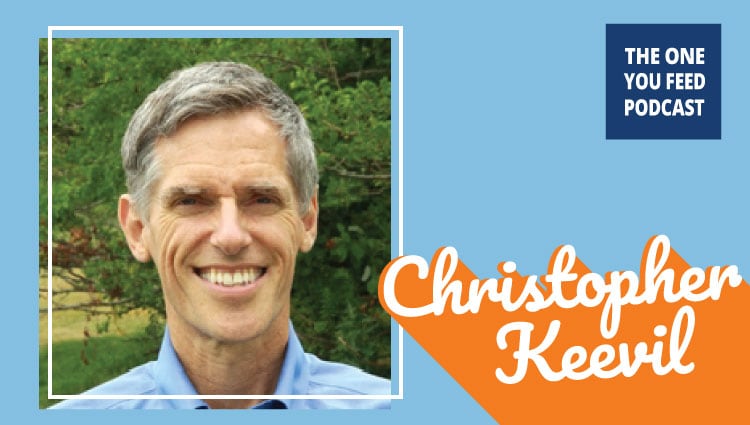 Christopher Keevil is an ordained Zen teacher who has been practicing since 1991 and teaching since 1998 in the lineage of his teacher, Zen Master Bo Mun. He is also the Managing Director and founder of Wellspring Consulting and is the founder and host teacher of Garden Oak Sangha.
In this episode, Eric and Christopher discuss his book, Finding Zen in the Ordinary: Stories and Reflections
If you need help with or are looking for support in working with your thoughts, emotions, and behaviors, check out The One You Feed Coaching Program. To learn more and to schedule a free 30-minute call with Eric, visit oneyoufeed.net/coach
But wait – there's more! The episode is not quite over!! We continue the conversation and you can access this exclusive content right in your podcast player feed. Head over to our Patreon page and pledge to donate just $10 a month. It's that simple and we'll give you good stuff as a thank you!
In This Interview, Christopher Keevil and I Discuss Finding Zen in the Ordinary and …
Learning to live life by choosing to be here and now
Paying attention in the present moment and seeing what's here without judgment
Meditation tips for beginners
Meditation practice is training to become present
His process of writing and finding deeper meaning
Visualizing spiritual growth as a helix that has movement and cycles
How our deeper self can move us to take action
Having both faith, doubt, and courage in life
The emotional imperative of "I am" is a mirage
Christopher Keevil Links:
BiOptimizers: Just 2 capsules of their Magnesium Breakthrough taken before bed gives you all 7 forms of magnesium so that you sleep better at night. Go to www.magbreakthrough.com/wolf and use the promo code WOLF10 at checkout to save 10%.
Calm App: The app designed to help you ease stress and get the best sleep of your life through meditations and sleep stories. Join the 85 million people around the world who use Calm to get better sleep. Get 40% off a Calm Premium Subscription (a limited time offer!) by going to www.calm.com/wolf
If you enjoyed this conversation with Christopher Keevil on Finding Zen in the Ordinary, you might also enjoy these other episodes: