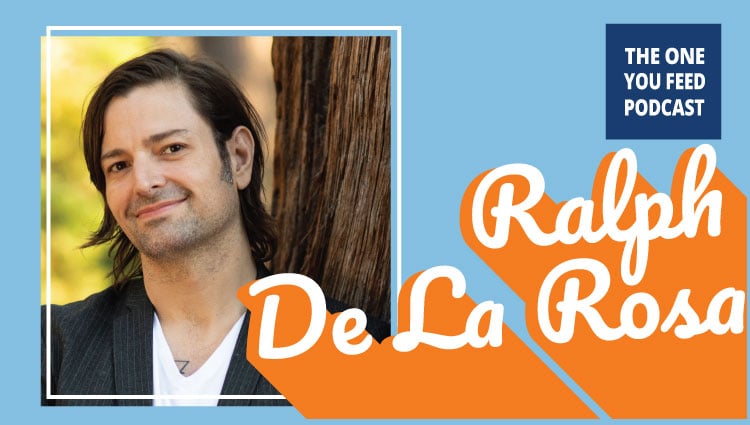 Ralph De La Rosa is a psychotherapist in private practice and a seasoned meditation instructor. His work has been featured in The New York Post,CNN, Tricycle, GQ, SELF, Women's Health, and many other publications and podcasts. Ralph regularly leads immersive healing retreats at Omega Institute, Spirit Rock, and Kripalu. His newest book is Don't Tell Me to Relax: Emotional Resilience in the Age of Rage, Feels, and Freak Outs.
In this episode, Eric and Ralph talk about the energy of emotions and how bringing awareness and compassion to our strong emotions creates resilience within us.
But wait – there's more! The episode is not quite over!! We continue the conversation and you can access this exclusive content right in your podcast player feed. Head over to our Patreon page and pledge to donate just $10 a month. It's that simple and we'll give you good stuff as a thank you!
In This Interview, Ralph De La Rosa and I discuss The Energy of Emotions and…
How we are hard-wired for anxiety, fear, and anger
Compassion is needed for the negative energies within us
The two kinds of suffering, the one you turn toward and the other your turn towards
Turning away from suffering and turning towards suffering
Allowing our anger to come up, then mindfully speak for that anger
Bringing awareness to strong emotions
Listening and acknowledging your inner critic helps the anger move on
The internal family systems (IFS) model of identifying all the parts of us here
How emotions are a living energy within you
Giving form and naming these emotions brings clarity
The inner critic is a defensive energy that is trying to keep us safe
How suffering points us to compassion
Meditation is a training in remembering (to remember)
Setting reminders on phone or post-it notes on the mirror are tools to bring meditation practice into our daily lives
Radical non-pathology is viewing symptoms as your body's way of trying to working something out and not as problems.
Curiosity is an extension of our basic wholeness
Self is an ecosystem, where every part works together to produce longevity and vitality
How everything in our world is trying to reflect ourselves back to us
Understanding that anger is intelligent and how we have the power to not pass on our anger
Ralph De La Rosa Links:
KiwiCo: The subscription service that sends your child hands-on science, art, and geography projects each month to build confidence, creativity, and critical thinking skills. Get 30% off your first month plus free shipping on any crate line with the promo code FEED at www.KiwiCo.com
Peloton: Wondering if a Peloton bike is right for you? You can get a free 30 day home trial and find out. If you're looking for a new way to get your cardio in, the Peloton bike is a great solution. Eric decided to buy one after his 30-day free trial. Visit onepeloton.com
Calm App: The app designed to help you ease stress and get the best sleep of your life through meditations and sleep stories. Join the 85 million people around the world who use Calm to get better sleep. Get 40% off a Calm Premium Subscription (a limited time offer!) by going to www.calm.com/wolf
If you enjoyed this conversation with Ralph De La Rosa on the Energy of Emotions, you might also enjoy these other episodes:
Ralph De La Rosa on the Mind as Your Teacher (2018)