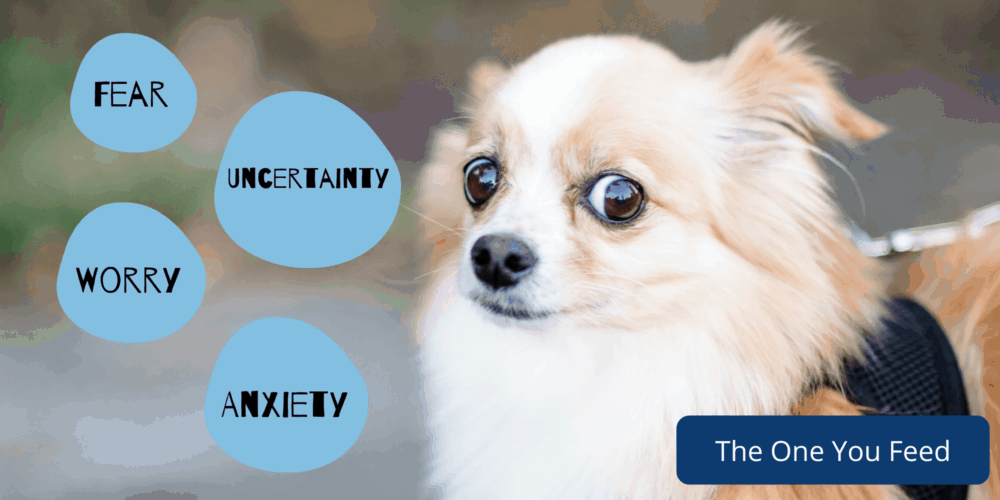 Emotional First Aid: What to do when feeling fear in the face of uncertainty
How to move from worry and fear to steady, open-hearted presence (especially when everything is uncertain)
How to go from fearful, anxious and worried to steady, open-hearted and present (even when everything is uncertain)
If the uncertainty of this global crisis has you feeling fearful, anxious, and worried, read on. This post is for you.
I want to shine a light on what's going on beneath the surface for us when we get caught in a really fearful reaction to the uncertainty that we are so acutely aware of in times of crisis. And, I want to offer up two other paths that we can take instead that each leads us to a place of internal wisdom, open-heartedness, deep steadiness, and presence.
Uncertainty falls under the umbrella of what Mark Nepo calls "the terrible knowledge."
Uncertainty – or, the fact that anything could happen to any of us at any time – is the reality in which we live. There are times when this is more obvious to us than others (like in a global pandemic) but whether we see it or not, it is always true.
So, the birthplace of our suffering – and our freedom – is in our relationship with uncertainty.
And this is good news – because while we can't change the very nature of reality, we can change how we relate to this fact of life. We just need some skills and know-how and practice to do so.
I've heard the Buddhist teacher, Jack Kornfield, tell a story about something that happened one day many years ago when he was on a walk to town as a Buddhist monk with his teacher and fellow monks.
As they passed by a huge boulder, his teacher turned to the group of monks and asked, "Is that boulder heavy to us?" to which the students replied, "Why yes, master!". His teacher smiled, and he said, "Not if we don't pick it up!".
So, one way we pick up the boulder of uncertainty is by looking through a lens called the negativity bias.
When we are caught in the negativity bias, as is so often our default as humans, we tend to see and remember things with a negative nature more than things with a positive nature.
The negativity bias is connected to our survival instinct. Spotting and remembering potential dangers or threats can serve us well when it comes to staying alive. It becomes problematic, however, when we have this lens on all the time, unaware that it is coloring all that we see with the big, black brushstrokes of impending doom.
We take on the negativity bias when we sense uncertainty, and our mind jumps to identify all of the terrible things that could happen. We then get hit with waves of deep fear and anticipated grief.
See, when we look through the lens of the negativity bias, we don't see the whole picture.
In this week's episode, Mark Nepo said that in the modern world, we have catastrophized our relationship to the unknown.
He went on to say that it's like watching the weather report on the news these days. Instead of calling it simply "the weather report", it's now often called "superstorm watch".
There are all types of weather to come, and we may be in a week full of peaceful, sunny spring days but instead of giving full weight to all kinds of weather, we are constantly searching for the next destructive, dangerous storm, pointing it out weeks before it could even potentially strike.
The undeniable reality is that the unknown can produce love and beauty just as it can produce difficulty and hardships.
I am not trying to downplay the suffering that is going on around the world, especially right now. I am just looking to color in the rest of the picture so that we have a more balanced view of the reality of uncertainty.
Though we can often have a fearful reaction when faced with uncertainty, we are well-served to remember that uncertainty holds the potential for positive things to emerge, too. This helps us release the grip of fear and let go into the life that is showing up for us in the present moment. If we're always bracing in fear, we miss the rest of life as it is happening.
So, the first pathway back to a more open-hearted presence is to identify when you're taking on a negativity bias in the face of uncertainty. When you name the fear that is stirred up because of this perspective, you become the larger space that can observe the fear instead of being caught inside fear itself.
The second pathway I'll share with you is found in how we work with our worried, anxious thoughts and feelings in the midst of uncertainty.
In her book, The Wisdom of Anxiety, Sheryl Paul gives a really helpful paradigm to consider:
"We simply don't like [living with uncertainty]. We want definitive answers [and] we are intrinsically wired to gravitate toward a need for control and a subsequent attempt to create the illusion of control."
She goes on to say that intrusive thoughts, rumination, and worry are the mind's attempt to create some certainty and thereby feel in control:
"The fear-based self believes that if you could answer the intrusive thoughts of the day, you would hedge your bets and know, without any doubt, that you're okay…Because the fear-based self is terrified of risk, terrified of anything that touches into vulnerability."
She points to the path out of ruminating thoughts which is to feel the difficult feelings that come up in the face of uncertainty:
"Let yourself feel that terror. Let yourself begin to befriend the mystery of life instead of clinging to what you think you can control. The truth is that there is so little we can control…The only freedom is to make friends with not knowing."
"We seem wired as humans to try and control outer circumstances in an attempt to avoid painful and uncomfortable feelings…The more you practice cutting through the habit of spider-monkeying up the vines of anxiety that entrap your brain, and instead drop back down into your heart, where your feelings live, the less anxious and more peaceful you will feel."
When we find ourselves in a state of worry, of intrusive thoughts, ask, "What is this thought protecting me from feeling?"
When we sense the answer to that question, we can contact these feelings with kindness, opening to them, breathing through them, allowing them to exist and be felt – and then to pass. Because all feelings follow the same pattern: They show up, they peak, and then they pass.
If you'd like to learn more about how to work with difficult feelings when they arise, click here to check out a blog post on the topic. I walk you through how to move through them in such a way that you're more in touch with your deeper, wiser self as a result. Plus, there's a ridiculously cute picture of a pug at the top of the post. That alone will surely make you smile.
I hope these approaches to uncertainty, fear, and anxiety are helpful to you right now, my friend.
If you would like to explore these topics further with me as a behavior coach, I offer a free 30-minute intro call to see if we're a fit to work together. And I'm discounting my 1-on-1 coaching services right now to try and make them as accessible as possible to as many people as possible.
On the intro call, there is no pressure to sign up to work with me. If we're a match to work together, that will be clear to both of us. High-pressured sales calls couldn't be further from how I operate in business and in life.
Instead, we'll spend our time on the phone talking about the specific challenges you're facing and we'll explore how I might help. Whether or not we decide to work together, I'll offer my thoughts on how you might work with these challenges to overcome them and make some progress in the areas of your life where you're feeling stuck.
Depending on your individual goals and challenges, I can offer either the content of The Spiritual Habits Program, The Personal Transformation Program, or a blend of the two programs.
Need help working through difficult feelings or thoughts? Maybe you know you could use support figuring out how to prioritize self-care (meditation, exercise, healthy eating habits), or you need to learn how to break through procrastination, or structure your days to remain productive despite all the challenges?
Click here to book a free 30-minute intro call with me to talk about what's got you feeling stuck right now.
Also, for the foreseeable future, I am offering weekly free group coaching calls on Wednesdays at 12 pm Eastern Daylight Time. On the call, you can ask questions or let me know what you're struggling with, and I'll offer my thoughts on how you might go about working through things in a strengthening, productive way. You can grab the Zoom link to join the calls on our COVID-19 Support page.
Wishing you well – especially right now,
Eric