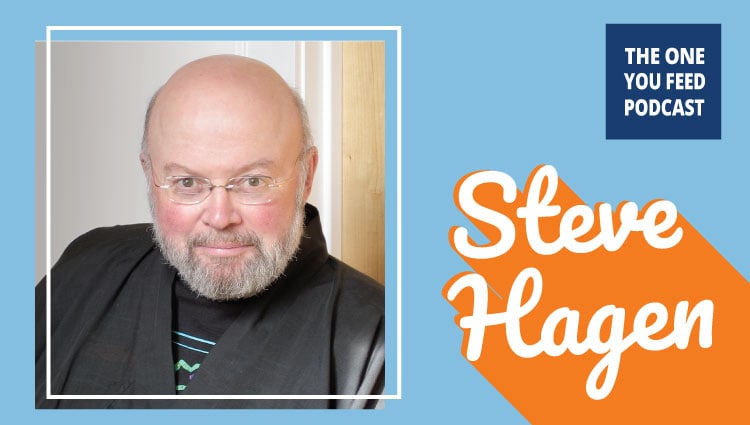 Steve Hagen was ordained a Zen priest in 1979 and in 1989 he received Dharma Transmission (formal endorsement to teach) from Jikai Dainin Katagiri Roshi. He is the author of several books on Buddhism, science, and philosophy. These include Buddhism Plain and Simple, his most popular book. In his most recent book, The Grand Delusion, he applies breakthrough Eastern insights to seemingly indelible problems in Western science and philosophy. In 1997, he founded Dharma Field Meditation and Learning Center in Minneapolis, where he continues to serve as senior teacher.
In this episode, Eric and Steve Hagen discuss his book, The Grand Delusion: What We Know But Don't Believe
But wait – there's more! The episode is not quite over!! We continue the conversation and you can access this exclusive content right in your podcast player feed. Head over to our Patreon page and pledge to donate just $10 a month. It's that simple and we'll give you good stuff as a thank you!
Steve Hagen and I Discuss What We Know but Don't Believe…
Defining grand delusion: our belief in non-emptiness or substantiality
The dichotomy of understanding that if there is something, there must not be nothing
How there are two truths that coexist
Understanding that it's in the mind where reality occurs
Realizing that we can't actually hold anything is the beginning of awakening
Why understanding this concept is important in our day to day life
Peace and present mind comes by seeing that the questions are misunderstanding the experience of life
How we can't resolve or answer the question of what's the meaning of life
We don't need to answer the questions to bring freedom
Trying to find a logical answer to meaning of life isn't possible
How we are acting and seeing things in terms of wholeness
Perception is what we process through our senses
Conception is the meaning we give to what we perceive
Our suffering is tied up in the way we conceptualize the world
The freedom of knowing that what we are grasping for isn't possible
Conceptualizing things isn't bad, but it can also bring suffering
Sudden and gradual awakening
His work and practice with koans
Great doubt comes with the question of why is there something rather than nothing
Steve Hagen Links:
When you purchase products and/or services from the sponsors of this episode, you help support The One You Feed. Your support is greatly appreciated, thank you!
If you enjoyed this conversation with Steve Hagen you might also enjoy these other episodes:
Steve Hagen on Perception and Conception (2018)
Original Buddhist Psychology with Beth Jacobs
Don't Miss Out
Subscribe to instantly download my free ebook, "The Top 5 Reasons You Can't Seem To Stick With A Meditation Practice —And How To Actually Build One That Lasts" — plus the lastest podcast delivered straight to your inbox each week!