Podcast: Download

This week on The One You Feed we have George Watsky. His stage name is Watsky and he is a combination poet, rapper and musician.
I first heard him via my kids and found that I liked the music. After I began to listen more closely I realized I was hearing a real artist who had a lot to say.
In This Interview Watsky discusses…
The One You Feed parable.
Why he feels the need to turn his judgement on himself.
Coming of age and finding himself.
How he doesn't have all the answers.
Who Norton is.
His relationship with his parents and what it was like growing up.
His work ethic
How he handles criticism
His existential crisis at 16
Meaning
Facing your emotions
Bio:
From his website: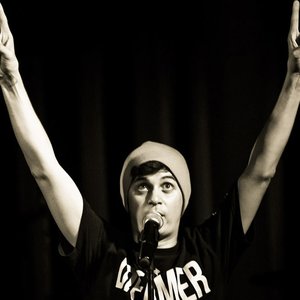 George Watsky is a rapper, writer and performer from San Francisco now living in Los Angeles. A versatile lyricist who switches between silly and serious, technically complex and simply heartfelt, George won the Brave New Voices National Poetry Slam in 2006. Immediate after, Watsky appeared on the final season of Russell Simmons Presents Def Poetry in 2007 while a himself  college Freshman and subsequently performed at over 150 universities across the country. Rapping all the while under the name 'Watsky,' George self-released the barely-heard jazz-hip hop record 'Invisible Inc' in 2007 and  the self-titled 'Watsky' in 2010, which peaked at #7 on the iTunes hip hop charts. In January 2011 George's fast rapping went viral and led to two appearances on the Ellen Show, a slot on Last Call with Carson Daly, and an exploding online profile. Watsky has performed at the Just for Laughs festival in Montreal, the NAACP Image Awards on FOX, three times at the Kennedy Center in Washington, DC, and has been featured in XXL, Billboard Magazine, the New York Times Magazine. Watsky's social media presence made him one of only 23 artists dubbed by 'The Next Big Sound' as a 'Big Sound of 2011,' alongside Mac Miller, Kreayshawn and Skrillex.
 Watsky graduated from Emerson College with a B.A. in "Writing and Acting for the Screen and Stage."
Watsky Links
His latest record Cardboard Castles
Watsky website
Watsky Video of Letters to My 16 Yr Old Self
Watsky You Tube channel