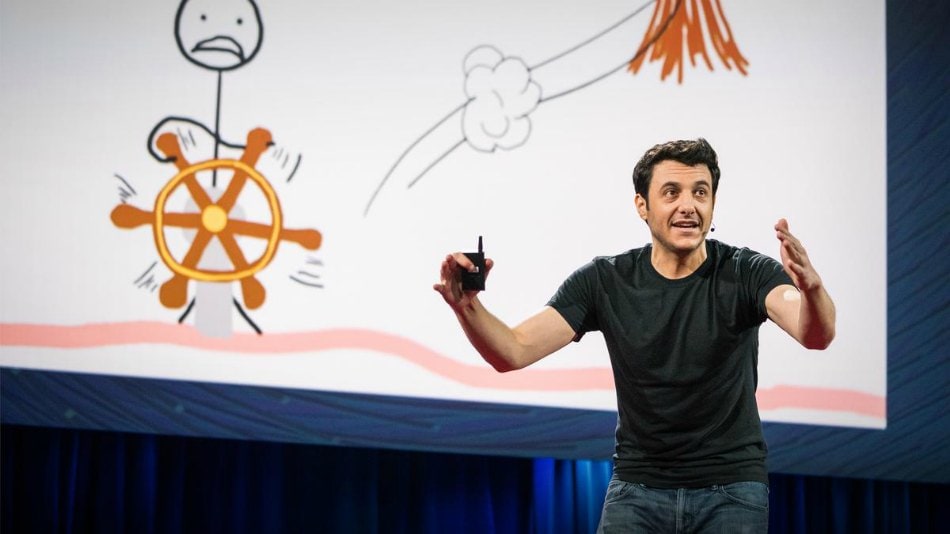 Tim Urban writes a pretty famous blog called Wait But Why – have you read it? Whether you have or you've never heard of it before, this episode will not only thoroughly entertain you but it will also help you implement a playful yet powerful approach to growing in wisdom. When it comes to concepts like "the consciousness staircase" or mindfulness about your moment to moment tasks, nothing helps your self-confidence more than reaping the benefits of making good decisions, "out of the fog", in the clarity of awareness. In this episode, Tim Urban teaches you hacks to do just that and you'll chuckle a lot along the way.

This week we talk to Tim Urban
Tim Urban has become one of the Internet's most popular writers. With wry stick-figure illustrations and occasionally epic prose on everything from procrastination to artificial intelligence, Urban's blog, 
Wait But Why
, has garnered millions of unique page views, thousands of patrons and famous fans like Elon Musk
His recent Ted talk has been watched almost 15 million times.
His articles have been regularly republished on sites like Quartz, The Washington Post, The Atlantic, TIME, Business Insider and Gizmodo. In 2015, Fast Company wrote that "Wait But Why is disproving the notion that thoughtful, long-form content and virality are mutually exclusive."
Urban has gained a number of prominent readers as well: authors Sam Harris and Susan Cain, Twitter co-founder Evan Williams, TED curator Chris Anderson and Brain Pickings' Maria Popova.
Recently, Urban received a call from Elon Musk, who told Urban he liked his writing and asked Urban if he'd like to interview him and write about his companies. Urban accepted, and spent the next six months writing a thorough blog series that Vox's David Roberts called "the meatiest, most fascinating, most satisfying posts I've read in ages." Since then, Urban's relationship with Musk has continued: Musk invited him to host SpaceX's launch webcast, solicited Urban's input and slide illustrations in a talk he did at the December 2015 Climate Change Conference in Paris, and recently granted him early access to information about SpaceX's interplanetary transport system for use in a post on Wait But Why.
In This Interview,

 Tim Urban and I Discuss…
The Wolf Parable
The consciousness staircase
That wisdom doesn't correlate with age
Step 1: Being in the Fog
Step 2: Thinning the fog to reveal context
How meditation can help
Step 3: Whoa Moments
Step 4: We Don't Know What's Going On
How he's an agnostic about reality
The value of humility
How ludicrous certainty can be
Tim Urban Links
A grandfather is talking with his grandson and he says there are two wolves inside of us which are always at war with each other. 
One of them is a good wolf which represents things like kindness, bravery and love. The other is a bad wolf, which represents things like greed, hatred and fear.
The grandson stops and thinks about it for a second then he looks up at his grandfather and says, "Grandfather, which one wins?"
The grandfather quietly replies, the one you feed 
The Tale of Two Wolves is often attributed to the Cherokee indians but there seems to be no real proof of this. It has also been attributed to evangelical preacher Billy Graham and Irish Playwright George Bernard Shaw. It appears no one knows for sure but this does not diminish the power of the parable.
This parable goes by many names including:
The Tale of Two Wolves
The Parable of the Two Wolves
Two Wolves
Which Wolf Do You Feed
Which Wolf are You Feeding
Which Wolf Will You Feed
It also often features different animals, mainly two dogs.