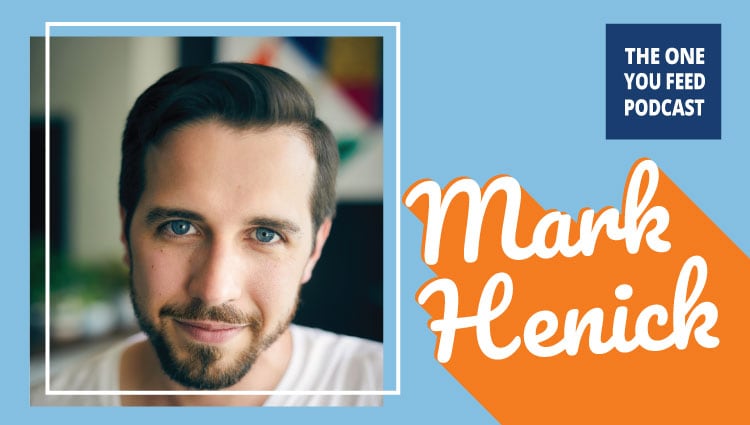 Mark Henick has appeared in hundreds of television segments and countless more radio, print and online features about mental health. Mark's TedTalk, "Why We Choose Suicide", is among the most-watched in the world with over 6 million views. In this episode, he tells Eric about his experience with attempts at suicide, relapsing depression and getting skillful with finding meaning and living his life. This isn't just a broad discussion on suicide and depression – there are real, practical techniques and approaches that can be applied to life today, no matter your circumstances, to create meaning, fulfillment, and yes, even joy.
Need help with completing your goals in 2019? The One You Feed Transformation Program can help you accomplish your goals this year.
But wait – there's more! The episode is not quite over!! We continue the conversation and you can access this exclusive content right in your podcast player feed. Head over to our Patreon page and pledge to donate just $10 a month. It's that simple and we'll give you good stuff as a thank you!
In This Interview, Mark Henick and I Discuss Suicide, Depression, and…
The duality of life and death
Mental Health and Suicide
His suicidality at 12 years old
The message he got that he couldn't talk about suicide
The complete stranger who saved him from jumping from a bridge at night – physically holding on to him
His realization that he didn't have to be the suffering boy he was, he could be the stranger that helped him…that his life could be different
The myth that if you talk about suicide it will give people the idea to do it
The right way and wrong way to talk about suicide and depression
How freeing it is to talk about something
When others told him they could relate to his story of suicide and depression
His recovery through a newfound sense of purpose
The healthier relationships he pursued
Getting clear about boundaries
The toxic masculinity he was surrounded by as a child
Not having the language to express the feelings he had
The perceptual field and increasing your options by getting uncomfortable.
How depression limits the options you can see
Broadening of perception and expansion as a part of awakening
Something good can come from most painful situations; It's in the lens you take and the work that you do.
His depression and social anxiety disorder
The danger in an avoidant coping strategy as well as the flaws of perfectionism.
Realizing the cross you bear can change into meaning and how to turn your struggle into something good.
Getting good at re-lapsing with his depression
His misguided thought that he was failing at getting better
Learning to trust himself AND learning not to believe every one of his thoughts
The truth: This too shall pass (the more you cling to it the longer it takes to pass)
How depression hates a moving target
---
Mark Henick Links:
Ted Talk: "Why We Choose Suicide"
Talkspace: the online therapy company that lets you message a licensed therapist from anywhere at any time. Therapy on demand. Non-judgemental, practical help when you need it at a fraction of the cost of traditional therapy. Visit www.talkspace.com and enter Promo Code: WOLF to get 65% off your first month.
Daily Harvest – Delivers absolutely delicious organic, carefully sourced, chef-created fruit and veggie smoothies, soups, overnight oats, bowls and more. To get $25 off your first box go to www.dailyharvest.com and enter promo code: FEED
---
If you enjoyed this conversation with Mark Henick on suicide and depression, you might also enjoy these other episodes: