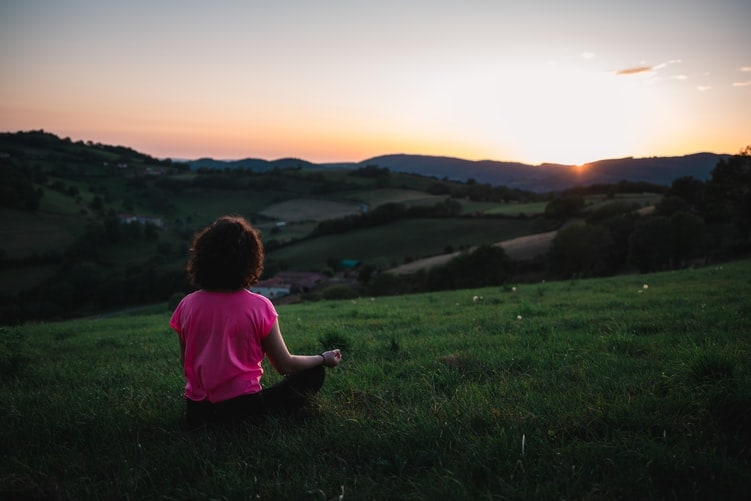 For years, I thought meditation just wasn't for me because when I turned my attention to my breath, rather than feeling focused, I felt distracted.
If the instructions were to "not control your breath", I found myself controlling my breathing simply by paying attention to it. It also felt really difficult to keep my attention on the breath. My mind wandered almost halfway through an inhale so getting through even a full inhale/exhale cycle of my breath was challenging. I just felt like it wasn't "working" for me.
Now, over 25 years of meditating later, I know there are many types and variations of meditation because different people will connect with different types. It's not that meditation wasn't for me – it was focusing on my breath that I found distracting and difficult.
Most meditations have what's called an "anchor" as the point of focus for your attention. When the mind wanders off into thought, you simply bring your attention back to your anchor. It's a way to steady the mind, build your ability to hold your attention on a point of focus, and it helps simplify the input coming into your awareness. It's a way to experience some stillness inside.
What I've found is that some anchors are "stickier" than others. What I mean is that some anchors hold my attention better than others. As it turns out, breath is not a very sticky anchor for me. Listening to the sounds in my environment, on the other hand, tends to be a pretty sticky anchor for me. I tend to be able to stay with sounds as the focus of my attention for longer periods of time than my breath.
When working with other people to help them develop a meditation practice, I've found this "sticky" factor to play a big role as well.
So, here are a couple of ideas for other anchors that you can try to see if they are stickier for your attention than, say, the breath.
First, try listening to a piece of music. Instrumental music works really well for this one. Pick an instrument to follow as the piece plays on. That instrument is your anchor, and you can meditate by intentionally placing your attention on it.
Second, you can try a body scan meditation. But, if you're like me, sometimes it's difficult to detect many sensations in your body when just sitting. So, instead, try doing the body scan meditation while in the shower. This works really well because there is a lot of sensory input with the water hitting your skin. Let these sensations be your anchor and spend a few minutes meditating on that.
If you're interested in learning about some more different types of meditation, I put together a guide called "12 Different Types of Meditation (And How To Know Which Is Right For You)".
You can get access to it by booking a free 30-minute call with me to talk about the 1-on-1 Spiritual Habits Program. I give you the guide for free just for booking the call.
To learn more about the 1-on-1 Spiritual Habits Program, click here.
If you know a bit about the program and are interested in seeing if it's right for you, click here to book a free 30-minute (no pressure whatsoever) call with me to find out. 
I hope these tips are helpful and I hope to talk with you soon.
Wishing you well,
Eric