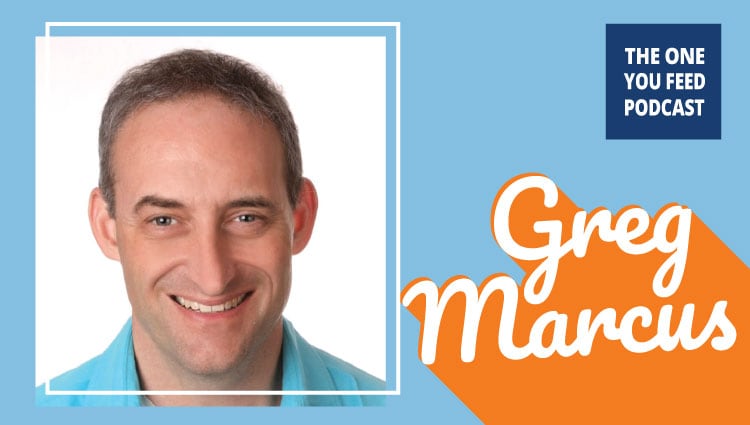 Greg Marcus is a practitioner, facilitator, and innovator of American Mussar which is a 21st-century spiritual practice for an authentic and meaningful life. He has a B.A. in Biology from Cornell University and earned his Ph.D. in Biology from MIT. He worked for 10 years as a marketer in the Silicon Valley genomics industry, after which he became a stay at home dad, writer, life balance coach, and biotech consultant. His latest book is called The Spiritual Practice of Good Actions: Finding Balance Through the Soul Traits of Mussar.
Need help with completing your goals in 2019? The One You Feed Transformation Program can help you accomplish your goals this year.
But wait – there's more! The episode is not quite over!! We continue the conversation and you can access this exclusive content right in your podcast player feed. Head over to our Patreon page and pledge to donate just $10 a month. It's that simple and we'll give you good stuff as a thank you!
In This Interview, Greg Marcus and I Discuss Spiritual Practice of Good Actions and …
The Jewish Spiritual Practice of Mussar
Taking mindful action in everyday life
The Soul Trait of Enthusiasm
Too much of a Soul Trait vs not enough of a Soul Trait
The middle way as it relates to Soul Traits
Focusing on a Soul Trait for 2 weeks
How to move head knowledge into heart knowledge
The Morning Mantra
Picking 1 specific action to take
Journaling
The Great Wall of Mussar – and how to overcome it
Handling significant emotional disruption
How our free will isn't always accessible to us
How to slow the train of emotional disruption
Shadow Soul Traits
Inverting the Shadow Trait: What is the light that's casting the shadow?
---
Greg Marcus Links:
FabFitFun: A women's lifestyle subscription box filled with full-size premium items that you will love. Give yourself (or someone special in your life!) this gift – use the promo code FEED for $10 off your first box at fabfitfun.com
Calm App: The #1 rated app for meditation. They have meditations, sleep stories, soothing music, and calm masterclasses with may One You Feed Guests. www.calm.com/wolf 25% off a Calm Premium Subscription.

Talkspace: the online therapy company that lets you connect with a licensed therapist from anywhere at any time. Therapy on demand. Non-judgemental, practical help when you need it at a fraction of the cost of traditional therapy. Visit www.talkspace.com and enter Promo Code: WOLF to get $100 off your first month.
---
If you enjoyed this conversation with Greg Marcus on the Spiritual Practice of Good Actions, you might also enjoy these other episodes:
Greg Marcus (Jan, 2017)